Business Expanding

Eavor Technologies Inc., an Innovative Canadian Scalable Geothermal Technology Company, Secures Investment from Chubu Electric Power Co., Inc.
Eavor Technologies Inc.

was founded in 2017 and is headquartered in Calgary, Alberta. The company has developed Eavor-Loop™ geothermal technology, a closed-loop system in which working fluid (freshwater) circulates several thousand meters underground and collects heat by thermal conduction, without the need for natural convective hydrothermal resources. A natural thermo-siphon drives this system, so there is no pumping or fracking required, no induced seismicity, and no greenhouse gas emissions with a small surface footprint.

Collaboration

2022/10
Location

Aichi
---
Environment & Energy

Canada
Eavor-Loop™ can be placed almost anywhere, unlike the traditional approach to geothermal energy which needs to first discover a hot, permeable aquifer and then to bring that water to the surface. It consists of two wells, an injector and a producer, drilled to the target depth. A radiator section is then built by drilling and connecting successive lateral pairs. Eavor's design uses a single drilling location for both vertical wells. Deep down in the earth, the wells turn approximately 20 to 90 degrees and then split into multilaterals to create more surface area for the working fluid to be in contact with the rock, thus increasing heat extraction and overall efficiency. Having succeeded in a demonstration project in Alberta in 2019-2020, the company has received a series of investments from major global energy companies and has projects under development in Bavaria, Germany, and the Southwest, U.S., as part of the commercialization of the technology.
In October 2020, the company established Eavor Japan K.K. in Tokyo as part of its commercial strategy. In October 2022, Chubu Electric Power Co., Inc. signed an agreement to invest in Eavor and support the commercialization of Eavor-Loop™ technology. This is the first investment for Chubu Electric Power to acquire a strategic stake in a geothermal technology company overseas, and is of great importance as Eavor completes its projects and enters the global commercialization phase.
To assist with Eavor's market entry to Japan, JETRO's Invest Japan Business Support Center (IBSC) provided consultation on incorporation (registration and tax), information on incentives, introduction to local governments, and business matching opportunities. It also assists in voicing requests for regulatory reform to the central government agencies and continues its support.  
JETRO supports your business in Japan
JETRO IBSCs are located in Japan's major business hubs and provide one-stop support and service to foreign firms seeking to set up or expand business in Japan. The centers, which provide free temporary office space, consultation with expert advisors and access to a wealth of business information, tailor support according to the specific needs and phase of development of each firm.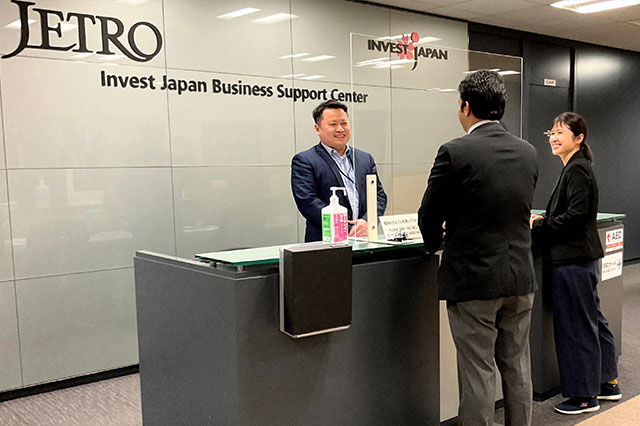 Contact Us
Investing in Japan
We will do our very best to support your business expansion into and within Japan. Please feel free to contact us via the form below for any inquiries.
Inquiry Form
JETRO Worldwide
Our network covers over 50 countries worldwide. You can contact us at one of our local offices near you for consultation.
Overseas Offices