Business Expanding

MIMEDX, the largest manufacturer of therapeutic biologics in the U.S. and a leader in the field of advanced wound care, establishes a Japanese subsidiary in Tokyo
MIMEDX Group, Inc.

is a U.S. manufacturer of therapeutic biologics that develops and markets human placental-based tissue allografts for wound care, burns, and various surgery applications to promote healing and reduce inflammation. Since its establishment in 2008, the company has supplied more than 2.5 million allografts in the United States as a pioneer in human placental tissue engineering.
Establishment

2021/08
Destination

Tokyo
---
Biotechnology & Lifescience

USA
On June 7, 2021, the company's "EPIFIX" dehydrated human amnion/chorion membrane allograft received Japan's regulatory approval as the first material using human amniotic membrane to facilitate tissue healing in Japan, and became covered by health insurance on September 1, 2022. This product is classified as a class IV (highly controlled medical device) and "Specified Biological Product," and is used for the treatment of hard-to-heal chronic wounds such as diabetic ulcers (DFU) and venous leg ulcers (VLU) that do not respond to conventional therapy. Insurance coverage for EPIFIX can provide doctors and patients with new treatment options and optimal wound care. It is sold in more than 20 countries around the world, including the United States, Australia, and other countries in Europe, the Middle East, and Asia.
The company has positioned Japan as an important market and established MiMedx Japan, Godo Kaisha in Tokyo in August 2021 with the purpose of entering the market. It is currently preparing for the start of full-scale sales.
To assist with the company's market entry to Japan, JETRO's Invest Japan Business Support Center (IBSC) provided consultation on incorporation (registration, taxation and labor), market information, regulatory and institutional information, PR support, and it also introduced service providers (real estate companies).
"EPIFIX" dehydrated human amnion/chorion membrane allograft
JETRO supports your business in Japan
JETRO IBSCs are located in Japan's major business hubs and provide one-stop support and service to foreign firms seeking to set up or expand business in Japan. The centers, which provide free temporary office space, consultation with expert advisors and access to a wealth of business information, tailor support according to the specific needs and phase of development of each firm.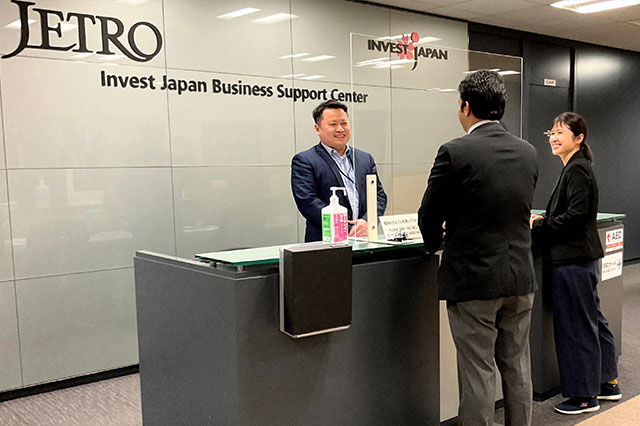 Contact Us
Investing in Japan
We will do our very best to support your business expansion into and within Japan. Please feel free to contact us via the form below for any inquiries.
Inquiry Form
JETRO Worldwide
Our network covers over 50 countries worldwide. You can contact us at one of our local offices near you for consultation.
Overseas Offices