Business Expanding

French fintech innovator, SESAMm, establishes a Japanese subsidiary in Tokyo
Founded in 2014, SESAMm

is a French fintech company specializing in alternative data* and artificial intelligence, delivering data-driven investment analytics to global investment firms and corporations.
*

Alternative data: textual data that differs from conventional investment information, such as macroeconomic and corporate performance in news articles, SNS posts, and tweets.
Establishment

2022/02
Destination

Tokyo
---
Finance & Insurance

France
The company uses natural language processing and machine learning techniques to analyze over 20 billion web articles and forums in multiple languages. However, over three billion of those articles are in Japanese, underscoring the importance of the market for SESAMm. To help investors make data-driven decisions on market trends, the company's system picks up on signs of market volatility and notifies them with messages to adjust their portfolios of financial assets. It can also be used to track environmental, social, and corporate governance (ESG) factors, analyze sentiment, generate investment signals, and formulate investment strategies.
Since 2020, Asset Management One, part of Mizuho Financial Group, has been working with SESAMm to create AI models to analyze financial reports and extract signals that can predict the outlook for each company's performance and M&A. In 2021, Tokio Marine & Nichido Fire Insurance started collaborating with the company to develop an AI analytics model for alternative data. The model learns the relationship between investor sentiment and the stock and bond markets, and it can be used for risk aversion, such as when it detects a sharp drop in investors' risk tolerance.
SESAMm attending FINSUM 2021
In December 2021, SESAMm was selected in the Green Finance Subsidy Program for Tokyo Market Entry by the Tokyo Metropolitan Government in recognition of its contribution to the expansion of the green finance market in Tokyo and beyond. Supported by the program, SESAMm Japan was established in Tokyo in February 2022. The company has already signed contracts with about 10 major Japanese companies, which use its technology for asset allocation, credit risk modeling, long/short equity strategies, trading models, and hedging. With Japan's sophisticated financial systems, SESAMm strives to enable smarter and ethical investment decisions through innovation toward carbon neutrality and sustainable growth.
SESAMm's TextReveal sentiment and ESG dashboard
To assist with establishing SESAMm's Japanese subsidiary, JETRO's Invest Japan Business Support Center (IBSC) provided tax consultation, information on visas and incentives, business matching and networking opportunities, and PR support.
JETRO supports your business in Japan
JETRO IBSCs are located in Japan's major business hubs and provide one-stop support and service to foreign firms seeking to set up or expand business in Japan. The centers, which provide free temporary office space, consultation with expert advisors and access to a wealth of business information, tailor support according to the specific needs and phase of development of each firm.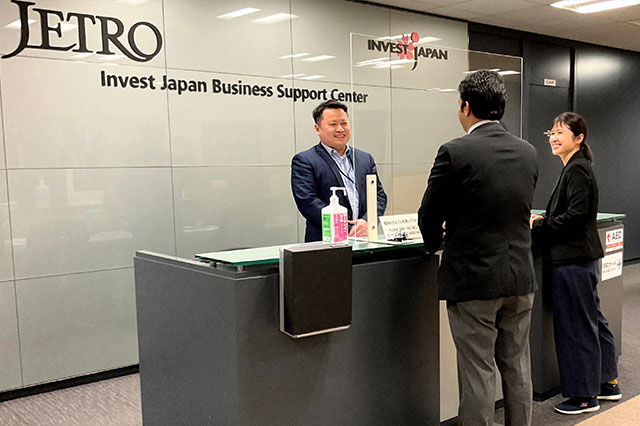 Contact Us
Investing in Japan
We will do our very best to support your business expansion into and within Japan. Please feel free to contact us via the form below for any inquiries.
Inquiry Form
JETRO Worldwide
Our network covers over 50 countries worldwide. You can contact us at one of our local offices near you for consultation.
Overseas Offices