Business Expanding

Leading French Cleantech Company in Energy Efficiency Optimization, METRON, Sets Up Its Subsidiary in Tokyo
METRON

is a French Cleantech company founded in 2013 and a leader in energy performance, the reduction of energy cost & carbon footprint with its digital energy management and optimization platform. It is aimed at the industrial, the tertiary and public sectors. At the corporate level, METRON provides a multi-sites visualization to have a group-level vision, and benchmark between sites. METRON can also be at the plant-level for local optimization.
Establishment

2022/03
Destination

Tokyo
---
Environment & Energy

France
METRON provides a solution that helps organizations control, manage and optimize their energy consumption. The platform leverages AI and big data to provide solutions that help customers dig deeper into their utilities consumption, and ultimately resulting in a decrease in their carbon emissions. The solution can be implemented within 3 months. The client's team progressively becomes autonomous to fully manage their energy strategy. At the same time, METRON provides continuous support with a dedicated team of Energy Managers and Data Scientists for more energy savings leveraging.
Japan's economy is faced with numerous challenges. The workforce is shrinking while there is a growing need to reduce utilities costs. Also, the Government of Japan has set the goal to achieve carbon neutrality by 2050. In consequence, the demand grows around environmental considerations such as reducing greenhouse gas emissions in the value chain.
METRON's solution will help tackle these issues by providing energy consumption monitoring, but also alarms and drift detection. It simplifies and automates data gathering and reporting processes, thereby realizing labor savings and contributing to the reduction of environmental impact through efficient facility operations.
Finally the platform will support customers in deploying and managing energy savings projects, whether on a single site such as a factory or at the entire group level. As such METRON is both a great tool and a trusted partner in your decarbonization roadmap.
METRON launched its Japanese operations in 2020. It has Japanese partners such as NTT Facilities, and already had a first success with a prominent client in the electronics sector. In establishing the Japanese subsidiary, JETRO's Invest Japan Business Support Center (IBSC) provided consultation on incorporation (registration, visa, tax, labor) and support for innovation related events.
METRON PLATFORM for tertiary & public market
JETRO supports your business in Japan
JETRO IBSCs are located in Japan's major business hubs and provide one-stop support and service to foreign firms seeking to set up or expand business in Japan. The centers, which provide free temporary office space, consultation with expert advisors and access to a wealth of business information, tailor support according to the specific needs and phase of development of each firm.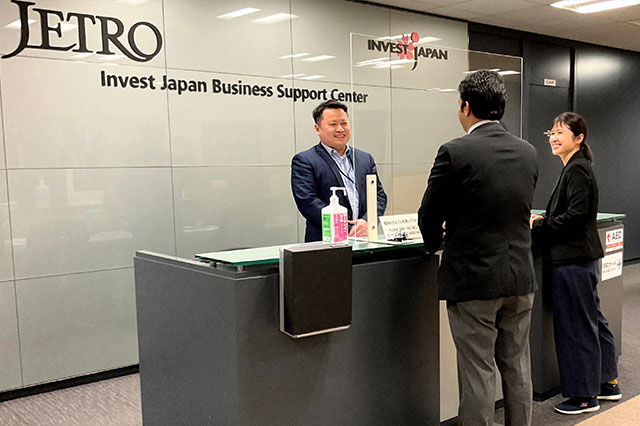 Contact Us
Investing in Japan
We will do our very best to support your business expansion into and within Japan. Please feel free to contact us via the form below for any inquiries.
Inquiry Form
JETRO Worldwide
Our network covers over 50 countries worldwide. You can contact us at one of our local offices near you for consultation.
Overseas Offices