Business Expanding

SOCOMORE, a French company providing surface processing, coating, and adhesion technologies, establishes a Japanese subsidiary in Kanagawa Prefecture
SOCOMORE

is headquartered in Vannes, Western France, and deals in surface treatment, coating, adhesive, and other products. The company has manufacturing bases in France, Ireland, the US, and Canada, and employs more than 315 people worldwide. It has subsidiaries and sales bases in a total of 22 countries, including Germany, Italy, Poland, Spain, the UK, Russia, Canada, UAE, Brazil, and China, and is selling its products in 45 countries around the world.
Establishment

2019/10
Destination

Kanagawa
---
Other

France
Founded in 1972, SOCOMORE began manufacturing detergents for tunnel cleaning operations in the Paris subway. Over the past 50 years since then, the company has expanded its products and services in five areas of surface treatment/processing, functional coatings, Non-destructive Testing (NDT) (Note¹), sealant products (Note²) and hygiene/disinfection, and evolved into a global company.
In particular, the company's surface treatment/processing, functional coating technologies, and adhesive technologies are widely used in automobiles, railroads, ships, aerospace industries, and bridges. Its advanced technologies have been recognized by global companies such as Airbus and Bombardier, and successfully introduced in more than 1,000 cases to date.
In addition to the efforts to reduce emissions of Volatile Organic Compounds (VOCs), the company is committed to reduce risks to the human body as well as the environment by reducing the CMR (Carcinogenic, Mutagenic, and Reprotoxic) hazards through the efforts including the development of products based on trivalent chromium (Note³) as a substitute to hexavalent chromium (Note⁴), which is a hazardous substance. Also with the aim of providing ever more environmentally friendly surface cleaning solutions, the company built a new laboratory in Vannes in 2021, and is targeting to have 20% of its sales covered by "green technology" by 2024.
In the recent COVID-19 pandemic, the company has made a social contribution by supplying thousands of liters of disinfectant and alcohol gel to hospitals and churches.
The company entered Japan in January 2018 with the acquisition of PC Innovations Limited, and established SOCOMORE Japan Co., Ltd. in October 2019 in Kanagawa Prefecture. Upon establishing its Japanese base, JETRO's Invest Japan Business Support Center (IBSC) provided assistance in finding business partners, business matching, and consultation (taxation).
(Note¹)

Inspection technology that examines the status of defects and deterioration of mechanical components or assemblies without destroying the object.

(Note²)

A fluid substance that is applied to joints of equipment to fill gaps and improve durability.

(Note³)

A compound of chromium, a transition metal, that contains the element in the +3 oxidation state. It has no strong toxicity. It is also one of the essential nutrients for the human body and not harmful.

(Note⁴)

A compound of chromium, a transition metal, that contains the element in the +6 oxidation state. It has a strong oxide capacity and is extremely harmful to the human body.

JETRO supports your business in Japan
JETRO IBSCs are located in Japan's major business hubs and provide one-stop support and service to foreign firms seeking to set up or expand business in Japan. The centers, which provide free temporary office space, consultation with expert advisors and access to a wealth of business information, tailor support according to the specific needs and phase of development of each firm.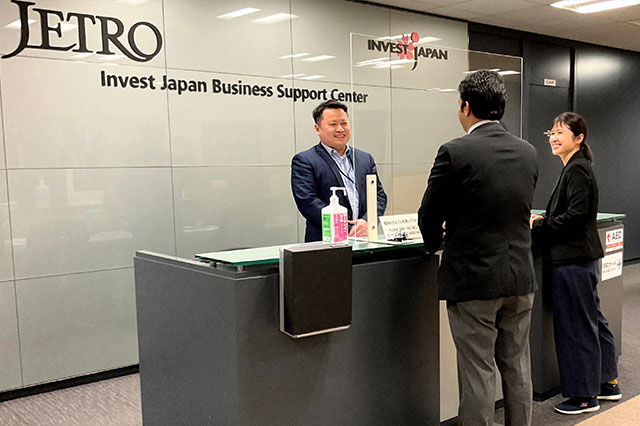 Contact Us
Investing in Japan
We will do our very best to support your business expansion into and within Japan. Please feel free to contact us via the form below for any inquiries.
Inquiry Form
JETRO Worldwide
Our network covers over 50 countries worldwide. You can contact us at one of our local offices near you for consultation.
Overseas Offices