Business Expanding

Japanese subsidiary of Vymo, Sales Acceleration Platform from India, steadily expands its business
Vymo

is a company started in Bengaluru, India, that provides sales acceleration platform. Since its founding in 2013, the company has opened offices in India, Japan, the United States, Hong Kong, Dubai, and Singapore, and currently moved general headquarters in Silicon Valley, USA.
Establishment

2019/04
Destination

Tokyo
---
ICT

India
The company provides a solution that not only automatically records sales representative activities (phone calls, visits, e-mails, remote meetings, schedules, online communication logs, etc.) via smartphones to visualize and optimize sales activities, but also synchronized the data to CRM/SFA to support an enterprise. The system automates time-consuming data entry and reporting activities, allowing sales staff to focus on their primary sales tasks and maximize time with customers and profits. It also enables sales activities to be smoothed by providing data-based nudges (data-driven insights), coaches (best practices), and playbooks (optimal and dynamic workflow based on sales activities) to on-site sales staff.
The company's solutions have already been implemented in more than 65 companies and organizations worldwide, and are used by more than 250,000 sales representatives. "Vymo Sales Standard" in Japan is now available as a more specialized product for mobile and remote environments in Japan, including support for Zoom, Webex, MS Teams for remote meetings and LINE WORKS business chat for LINE communications. The company is targeting not only the financial and insurance industry, where existing customers sectors, but other sectors as well.
The company established its Japanese subsidiary in April 2019 and has been steadily expanding its business since then. Upon expanding its Japanese base, JETRO's Invest Japan Business Support Center (IBSC) provided consultations (visa, tax, and labor) and introduced service providers (recruitment agencies).
JETRO supports your business in Japan
JETRO IBSCs are located in Japan's major business hubs and provide one-stop support and service to foreign firms seeking to set up or expand business in Japan. The centers, which provide free temporary office space, consultation with expert advisors and access to a wealth of business information, tailor support according to the specific needs and phase of development of each firm.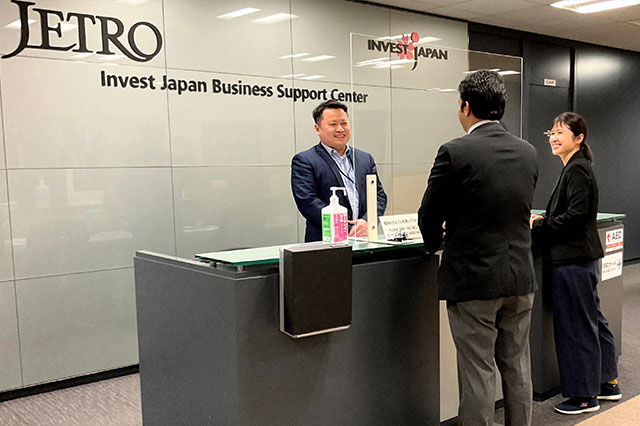 Contact Us
Investing in Japan
We will do our very best to support your business expansion into and within Japan. Please feel free to contact us via the form below for any inquiries.
Inquiry Form
JETRO Worldwide
Our network covers over 50 countries worldwide. You can contact us at one of our local offices near you for consultation.
Overseas Offices