Business Expanding

Demcon, a Dutch company that supports companies in development and manufacturing through open innovation, establishes a Japanese subsidiary in Tokyo
Demcon

is a Dutch company that is successful in executing the model of open innovation, supporting companies in product development, prototype manufacturing, and production. Established in 1993, the company has become a group of 11 bases in four countries with 750 employees and 16 affiliated companies.
Establishment

2020/10
Destination

Tokyo
---
Biotechnology & Lifescience

Service

Other

Netherlands
In the fields of healthcare, high tech, safety, sustainability, and communications, in which major companies and others develop new technologies and products that accompany difficulties, Demcon works with them at various stages of product development to resolve technical challenges and supports them to enter the market at the right time. Another advantage of its service is that it offers flexible arrangements for intellectual property rights with the client company.
When the COVID-19 infection spread rapidly in 2020, the company made a major contribution by developing, testing, and manufacturing an artificial respirator in about one month at the request of the Dutch government.
In October 2020, the company established DEMCON Japan Co., Ltd. in Tokyo with the aim of developing new customers and responding to existing customers. The company has already successfully collaborated with NIHON KOHDEN CORPORATION, a medical device manufacturer with expertise in monitoring and sensing technologies, on the joint development of high-end medical systems in Japan.
Queen Maxima of the Netherlands visits the company that manufactures artificial respirators to combat COVID-19
Upon establishing its Japanese base, JETRO's Invest Japan Business Support Center (IBSC) provided market information.
JETRO supports your business in Japan
JETRO IBSCs are located in Japan's major business hubs and provide one-stop support and service to foreign firms seeking to set up or expand business in Japan. The centers, which provide free temporary office space, consultation with expert advisors and access to a wealth of business information, tailor support according to the specific needs and phase of development of each firm.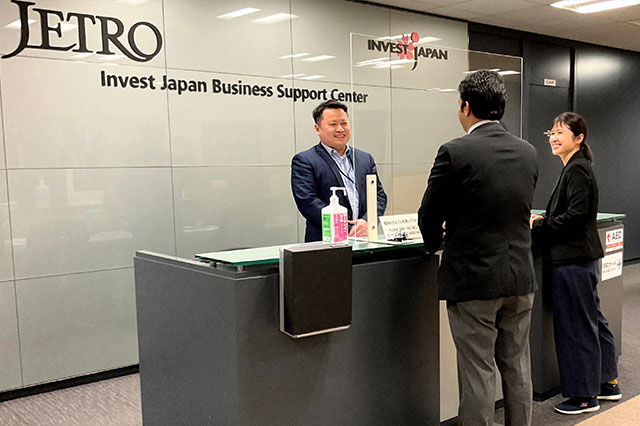 Contact Us
Investing in Japan
We will do our very best to support your business expansion into and within Japan. Please feel free to contact us via the form below for any inquiries.
Inquiry Form
JETRO Worldwide
Our network covers over 50 countries worldwide. You can contact us at one of our local offices near you for consultation.
Overseas Offices