Business Expanding

REGO-FIX AG, a Swiss tooling system manufacturer, establishes a Japanese subsidiary in Tokyo
REGO-FIX AG

was founded in 1950 in Tenniken (northern Switzerland, suburbs of Basel) and manufactures high-precision tooling systems*. It has over 280 employees worldwide. The ER system, a tooling system developed by the company in 1972, was adopted as the German Industrial Standards (DIN Standards) in 1993 and has been used in a wide range of fields, including the automobile, aviation, metal molds, machine tools, medical, telecommunications, and watch industries. Today, it also offers powRgrip®, a proprietary press-fit tooling system that achieves runout of 3 μm (1 μm = 0.001 mm) or less and a strong clamping force.
Establishment

2021/01
Destination

Tokyo
---
Machinery & Semiconductor

Switzerland
REGO-FIX AG has been rolling out its products in the Japanese market for many years through distributors. To enhance customer support, it established a Japanese subsidiary in Tokyo in January 2021.
Upon establishing its Japanese base, JETRO's Invest Japan Business Support Center (IBSC) provided consulting (registration) and PR support, and introduced service providers (tax accountants, labor and social security attorneys, real estate agents, and banks).
(*)

Tooling system: A set of tools that serve as adapters for mounting cutting tools, such as drills and end mills to machine tools.
Image of the tooling system powRgrip® in use
JETRO supports your business in Japan
JETRO IBSCs are located in Japan's major business hubs and provide one-stop support and service to foreign firms seeking to set up or expand business in Japan. The centers, which provide free temporary office space, consultation with expert advisors and access to a wealth of business information, tailor support according to the specific needs and phase of development of each firm.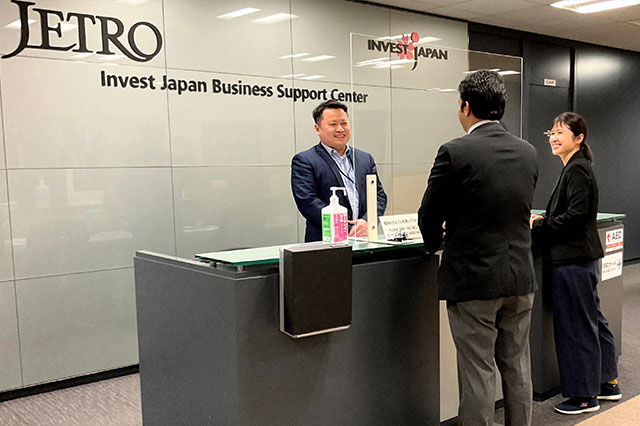 Contact Us
Investing in Japan
We will do our very best to support your business expansion into and within Japan. Please feel free to contact us via the form below for any inquiries.
Inquiry Form
JETRO Worldwide
Our network covers over 50 countries worldwide. You can contact us at one of our local offices near you for consultation.
Overseas Offices