Business Expanding

Cambridge Innovation Center (CIC), a U.S. company that operates office space for startups, opened its first Asian base in Tokyo
Cambridge Innovation Center

, established in 1999 in Massachusetts, U.S., operates the world's largest full-service office innovation centers, housing more than 2,000 startups, venture capital firms, major corporations, and certified professionals worldwide.
On October 1, 2020, the company opened CIC Tokyo, Japan's largest innovation community, on the 15th and 16th floors of Toranomon Hills Business Tower in Minato-ku, Tokyo, occupying approximately 6,000 square meters of space on two floors. Besides shared workspace, it provides seminar rooms, event spaces, and wellness (health maintenance) facilities. CIC's sister organization, Venture Café Tokyo, has also moved in. CIC Tokyo offers all-inclusive monthly lease contracts and aims to build a diverse community centered on startup companies. It will accommodate more than 250 companies in the future.
Establishment

2018/11
Destination

Tokyo
---
Service

Other

USA
The expansion of the core organization of the innovation ecosystem in the Greater Boston area to Japan bodes well for Japanese startups in CIC's ecosystem to expand overseas, overseas startups advancing into Japan, and promoting cooperation between Japanese companies and overseas startups.
Since its establishment in November 2018, CIC Japan G.K., CIC's Japanese subsidiary, has been preparing to open CIC Tokyo until the time is ripe. The company is strongly committed to supporting the growth of startups and further nurturing innovation in Japan.
Upon establishing its Japanese base, JETRO's Invest Japan Business Support Center (IBSC) provided consulting (registration, visa, and tax), PR support, and introduced service providers (patent attorneys, banks).
JETRO supports your business in Japan
JETRO IBSCs are located in Japan's major business hubs and provide one-stop support and service to foreign firms seeking to set up or expand business in Japan. The centers, which provide free temporary office space, consultation with expert advisors and access to a wealth of business information, tailor support according to the specific needs and phase of development of each firm.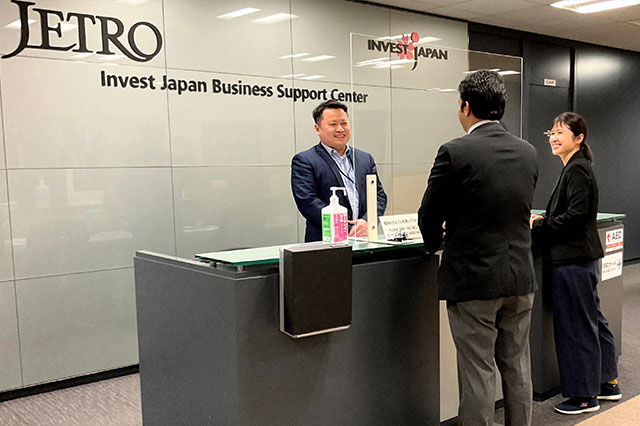 Contact Us
Investing in Japan
We will do our very best to support your business expansion into and within Japan. Please feel free to contact us via the form below for any inquiries.
Inquiry Form
JETRO Worldwide
Our network covers over 50 countries worldwide. You can contact us at one of our local offices near you for consultation.
Overseas Offices