Business Expanding

Dutch offshore wind turbine foundation installation specialist IHC IQIP to supply equipment for Akita-Noshiro offshore wind farm
IHC IQIP

delivers equipment and offers advice, knowledge, and services for foundation construction. The most important market for IHC IQIP is the offshore wind market. IHC IQIP's equipment such as Hydrohammers, noise mitigation systems, and handling & lifting equipment are the contractors' first choice for installing foundations.
Environment & Energy

Netherlands
---
In today's offshore wind farm field, monopile foundations (large-diameter steel-pipe piles with a maximum diameter of 12m weighing up to 2,000 tons) have become the mainstream for offshore wind turbines due to their cost-efficiency. IHC IQIP's Hydrohammers, used along with its noise mitigation system, offer advantages in installing these monopiles, which are rapidly increasing in size, precision, and efficiency.
It has successfully installed over 4,000 monopiles for over 80 offshore wind projects in Europe and Asia through equipment leasing. The company commands an 80% share in Europe and 70% share in Asia in this field. Japan lies in the deepest basin in the world's ocean, necessitating wind farms to stand close to the coast and possibly causing noise problems. The company's onshore Noise Reduction System (NRS) provides a solution to this challenge.
Offshore Noise Mitigation System (NMS) which is called The Integrated Monopile Installer
With the enforcement of the Act on Promoting the Utilization of Sea Areas for the Development of Marine Renewable Energy Power Generation Facilities (Offshore Renewable Energy Act) in April 2019, Japan placed a set of rules for building wind turbines for offshore wind power generation in Japanese waters. Since then, the company has provided consultation for local governments and businesses in Japan attempting to enter the offshore wind power industry.
IHC IQIP Japan was established in January 2020 in Tokyo to focus on the offshore wind construction market in Japan. It cooperates with local governments, port and power companies, and local companies that make up offshore wind industry value chains, contributing to the development of an offshore wind ecosystem. To accommodate its rapidly growing team and business, IHC IQIP Japan relocated to a new office in January 2021. In 2021, IHC IQIP Japan will deliver equipment for installing wind turbine foundations for the Akita-Noshiro offshore wind project, the first-ever large-scale offshore wind farm in Japan.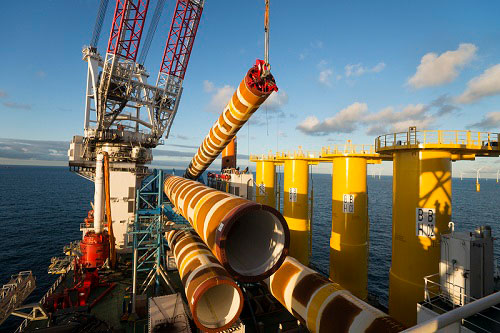 To assist with establishing its base in Japan, the JETRO Invest Japan Business Support Center (IBSC) provided temporary office space, consultation on registration, visa, tax, and labor matters. It also introduced service providers (a real estate agency, recruitment agency, and translation company).
JETRO supports your business in Japan
JETRO IBSCs are located in Japan's major business hubs and provide one-stop support and service to foreign firms seeking to set up or expand business in Japan. The centers, which provide free temporary office space, consultation with expert advisors and access to a wealth of business information, tailor support according to the specific needs and phase of development of each firm.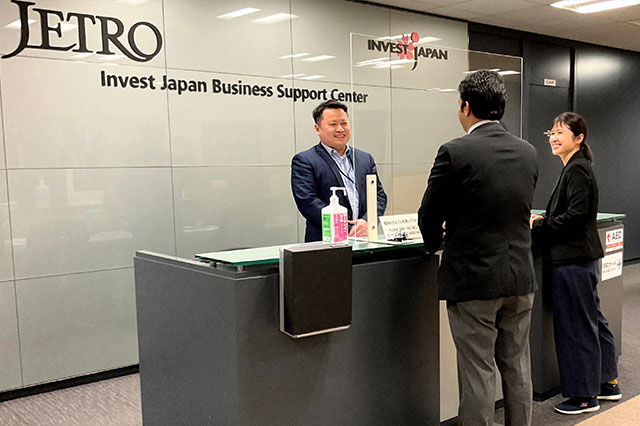 Contact Us
Investing in Japan
We will do our very best to support your business expansion into and within Japan. Please feel free to contact us via the form below for any inquiries.
Inquiry Form
JETRO Worldwide
Our network covers over 50 countries worldwide. You can contact us at one of our local offices near you for consultation.
Overseas Offices