Business Expanding

AI Dynamics, a U.S. company that develops and provides AI automatic generation solution platforms, establishes a Japanese subsidiary in Tokyo
AI Dynamics

, headquartered in Seattle, U.S., provides NeoPulse®, a platform that automates the development of inference models that are central to AI, which previously required AI engineers to handle large amounts of data and spend a great deal of time.
Establishment

2020/02
Destination

Tokyo
---
ICT

Service

USA
In recent years, the number of companies using AI has been increasing, but at the same time, securing and training AI engineers have become major issues because the engineers for utilizing AI require a high level of expertise and technology. NeoPulse® does not require advanced mathematical knowledge and can automatically generate highly accurate inference models from big data with simple operations, even without AI engineers. It can be used in all sorts of industries (healthcare, financial, logistics, retail, entertainment, etc.), and significantly reduces development time and costs.
In February 2020, AI Dynamics Japan was established in Tokyo to develop new customers for NeoPulse®, develop Japan-specific solutions, and serve as the regional headquarters for APEC (Asia-Pacific).
Upon establishing its Japanese base, JETRO's Invest Japan Business Support Center (IBSC) provided consultations related to the establishment of the company (registration, visa, tax, and labor).
NeoPulse® The AI Operating System
JETRO supports your business in Japan
JETRO IBSCs are located in Japan's major business hubs and provide one-stop support and service to foreign firms seeking to set up or expand business in Japan. The centers, which provide free temporary office space, consultation with expert advisors and access to a wealth of business information, tailor support according to the specific needs and phase of development of each firm.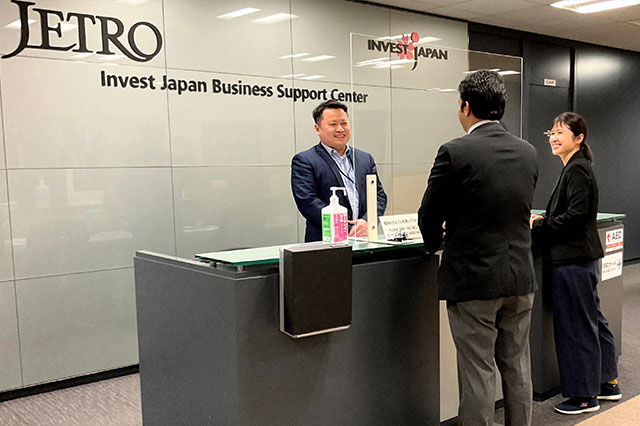 Contact Us
Investing in Japan
We will do our very best to support your business expansion into and within Japan. Please feel free to contact us via the form below for any inquiries.
Inquiry Form
JETRO Worldwide
Our network covers over 50 countries worldwide. You can contact us at one of our local offices near you for consultation.
Overseas Offices