Business Expanding

Kinetic Technologies K.K., a semiconductor manufacturer originated from the U.S., establishes its sales and R&D base in Chiba Prefecture
Kinetic Technologies K.K.

is a Japanese subsidiary of Kinetic Technologies based in San Jose, California, U.S.. The company designs and sells proprietary high-performance analog semiconductor products and mixed-signal semiconductor products.
Establishment

2020/03
Destination

Chiba city , Chiba
---
Machinery & Semiconductor

USA
The company has been a major supplier to many companies with its proprietary power supply control and protection circuit technologies patented in many fields, including power supply/protection ICs, driver ICs, and wireless charging power supply ICs. It also offers a wide variety of converter ICs that bridge display ports with conventional analog A/V interfaces or digital A/V interfaces such as HDMI, as well as many other products with unique functions and performance that conform to the latest video standards. The establishment of an R&D base in Japan by the company with such advanced technologies will contribute to the sophistication of Japanese semiconductor industry.
At the end of 2019, the company acquired the smart connectivity division of MegaChips Corporation, a Japanese semiconductor manufacturer, and established Kinetic Technologies K.K. in March 2020. In August 2020, it established a Japanese subsidiary office in Chiba Prefecture and began full-scale business operation in Japan.
Upon establishing a Japanese subsidiary, JETRO's Invest Japan Business Support Center (IBSC) provided information on subsidies/incentives and real estate properties, introduced service providers, arranged interviews, and provided consultation (labor) and support in opening bank accounts.
JETRO supports your business in Japan
JETRO IBSCs are located in Japan's major business hubs and provide one-stop support and service to foreign firms seeking to set up or expand business in Japan. The centers, which provide free temporary office space, consultation with expert advisors and access to a wealth of business information, tailor support according to the specific needs and phase of development of each firm.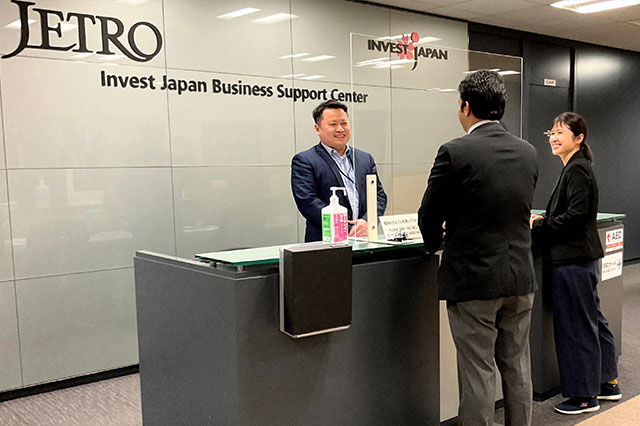 Contact Us
Investing in Japan
We will do our very best to support your business expansion into and within Japan. Please feel free to contact us via the form below for any inquiries.
Inquiry Form
JETRO Worldwide
Our network covers over 50 countries worldwide. You can contact us at one of our local offices near you for consultation.
Overseas Offices