Business Expanding

Arjuna Therapeutics, a Spanish company developing therapeutic medicines for intractable cancers, signs a joint research agreement with the National Cancer Center (NCC)
Arjuna Therapeutics

was founded in 2019 and is headquartered in Galicia, Spain. In its unique platform called Therapeutic Molecular Clusters (TMCs), it is now possible to formulate new molecules with properties different from those of conventional metals while combining atoms of specific transition metals under specific conditions. The company has succeeded in creating cluster compound candidates with a new mechanism of action, and is advancing preclinical trials with the aim of developing medicines for the treatment of intractable cancers.

Collaboration

2021/09
Location

Chiba
---
Biotechnology & Lifescience

Spain
JETRO invited Arjuna Therapeutics to participate in the 2019 Chiba Global Business Forum (face-to-face) and arranged individual business meetings with the National Cancer Center (NCC) Hospital East and Exploratory Oncology Research & Clinical Trial Center (EPOC) (Kashiwa City, Chiba Prefecture). As a result, Arjuna Therapeutics and NCC signed a non-disclosure agreement (NDA) and a material transfer agreement (MTA). In addition, through the 2020 Chiba Global Healthcare Business Forum (online), the company was given the opportunity to pitch and meet with NCC online, which led to the conclusion of a joint research agreement in September 2021.
In this joint research, it is planned to promote translational research aimed at clarifying the mechanism of action of new cluster compound candidates created by Arjuna Therapeutics and developing cancer therapeutics under the research collaboration system between the research team led by Akihiro Ohashi, Ph.D., Head of Division of Translational Genomics at NCC EPOC, and Arjuna Therapeutics.
In addition, JETRO's Invest Japan Business Support Center (IBSC) provided information on subsidies and incentives. JETRO will continue to support the collaboration between Arjuna Therapeutics and NCC, which are challenging the unmet medical needs of intractable cancer drug discovery.
JETRO supports your business in Japan
JETRO IBSCs are located in Japan's major business hubs and provide one-stop support and service to foreign firms seeking to set up or expand business in Japan. The centers, which provide free temporary office space, consultation with expert advisors and access to a wealth of business information, tailor support according to the specific needs and phase of development of each firm.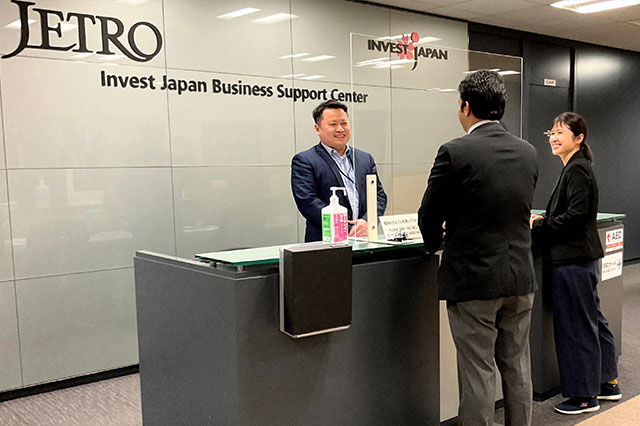 Contact Us
Investing in Japan
We will do our very best to support your business expansion into and within Japan. Please feel free to contact us via the form below for any inquiries.
Inquiry Form
JETRO Worldwide
Our network covers over 50 countries worldwide. You can contact us at one of our local offices near you for consultation.
Overseas Offices