Business Expanding

Four Twenty Seven, Inc., a U.S. environmental and climate change risk assessment company, establishes a Japanese subsidiary in Yokohama City, Kanagawa Prefecture
Twenty Seven, Inc.

Four , founded in 2012 and headquartered in California, U.S., is a company that analyzes weather and environmental risk data and provides the assessment data.
Using big data and climate models, the company analyzes and assesses the future economic risks brought about by natural disasters caused by global climate change, and provides the assessment data. The data and applications are useful for calculating and taking actions against the physical risks of future natural disasters on assets such as pension portfolios and real estate.
Establishment

2020/01
Destination

Kanagawa
---
ICT

Service

Finance & Insurance

USA
Based on the judgment that Japan, which is exposed to serious climate risk and disaster risk on a daily basis, has a lot of market potential to benefit from its data analysis services, the company established a Japanese subsidiary in January 2020 with the aim of developing its business for the Japanese market, and began full-scale operations in 2021.
Upon establishing the Japanese subsidiary, JETRO's Invest Japan Business Support Center (IBSC) provided consultation (tax) and introduced service providers (tax accountants and banks).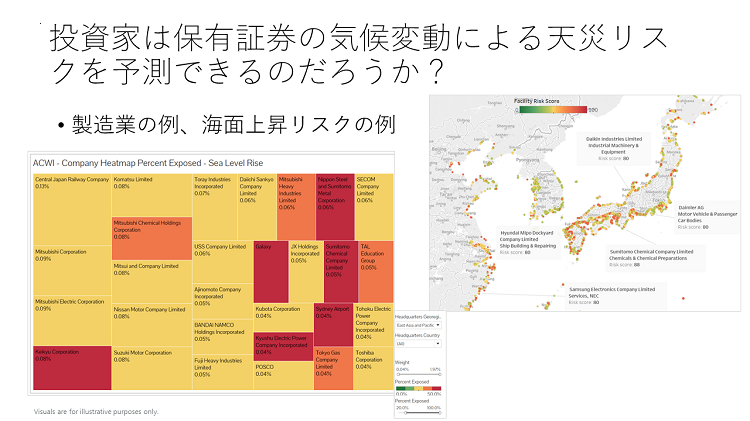 JETRO supports your business in Japan
JETRO IBSCs are located in Japan's major business hubs and provide one-stop support and service to foreign firms seeking to set up or expand business in Japan. The centers, which provide free temporary office space, consultation with expert advisors and access to a wealth of business information, tailor support according to the specific needs and phase of development of each firm.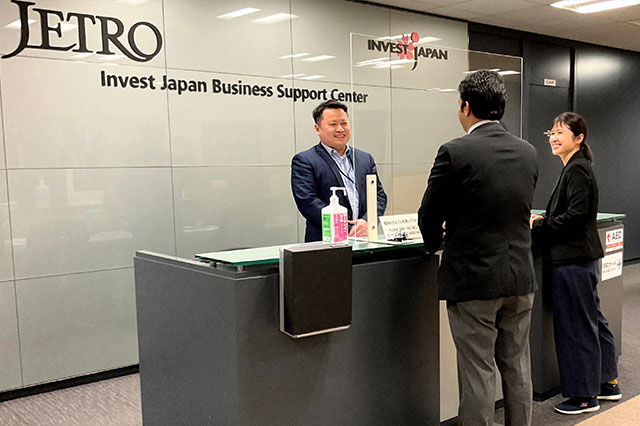 Contact Us
Investing in Japan
We will do our very best to support your business expansion into and within Japan. Please feel free to contact us via the form below for any inquiries.
Inquiry Form
JETRO Worldwide
Our network covers over 50 countries worldwide. You can contact us at one of our local offices near you for consultation.
Overseas Offices