Business Expanding

Cell Impact AB, a global supplier of advanced flow plates based in Sweden, establishes a Japanese subsidiary in Tokyo
Cell Impact AB

was established in 1999 with their headquarters in Sweden. Cell Impact is a global supplier of advanced flow plates (*) to fuel cell manufacturers. The company has developed and patented a unique method for high-velocity forming, Cell Impact Forming™, which makes it possible to produce flow plates with more advanced designs, which in turn creates more cost and energy-efficient fuel cells compared to conventional forming methods.
Establishment

2021/02
Destination

Tokyo
---
Environment & Energy

Machinery & Semiconductor

Sweden
Receiving the declaration of carbon neutrality by 2050 by the Japanese government, the company established Cell Impact Japan K.K. in Tokyo in February 2021, in order to be present when over 19 billion dollars in hydrogen technology investments occur along with Japan's high level of innovation and large automotive industry.
Upon establishing the company's Japan office, JETRO's Invest Japan Business Support Center (IBSC) provided consultation (registration, tax, and labor), market information, PR support, temporary office space, introduced service providers (certified legal specialists for company registration, tax accountants, real estate agencies) and arranged meetings with local governments (Yamanashi Prefecture, Fukushima Prefecture).
*

Flow plates: A plate-shaped component that is placed between each cell of a fuel cell and serves to block fuel gas and air. It creates a flow path for the gas to flow through each cell and it feeds fuel gas and air.
FlowPlate
JETRO supports your business in Japan
JETRO IBSCs are located in Japan's major business hubs and provide one-stop support and service to foreign firms seeking to set up or expand business in Japan. The centers, which provide free temporary office space, consultation with expert advisors and access to a wealth of business information, tailor support according to the specific needs and phase of development of each firm.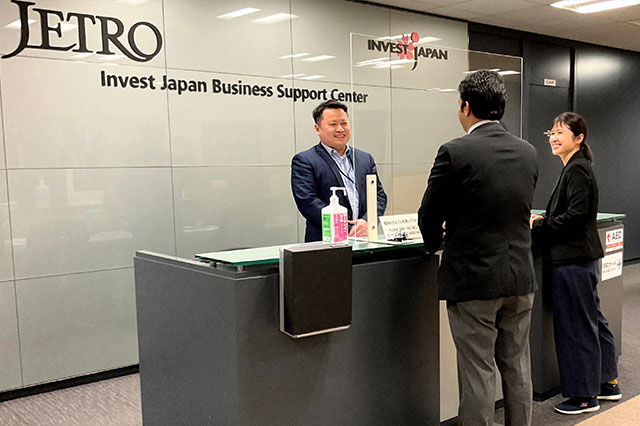 Contact Us
Investing in Japan
We will do our very best to support your business expansion into and within Japan. Please feel free to contact us via the form below for any inquiries.
Inquiry Form
JETRO Worldwide
Our network covers over 50 countries worldwide. You can contact us at one of our local offices near you for consultation.
Overseas Offices