Business Expanding

DoorDash, the largest on-demand food delivery service company in the U.S., establishes a Japanese subsidiary
DoorDash

is an on-demand food delivery service company founded in 2013 in San Francisco, U.S. The company is the industry leader in the U.S., and operates in more than 4,000 cities in the U.S., Canada, and Australia. It has been funded by prominent VCs such as Sequoia Capital, KPCB, Khosla Ventures, and Y Combinator, as well as the SoftBank Vision Fund launched by the SoftBank Group. In December 2020, the company made an initial public offering (IPO) on the New York Stock Exchange (NYSE).
Establishment

2021/01
Destination

Tokyo , Sendai city
---
ICT

Service

USA
Users can order not only food but also daily necessities from merchants for takeout or delivery through a dedicated app. In addition, the company develops a software called "Storefront", an ordering and delivery system that merchants can implement in their own apps and websites. With this system, merchants can easily start accepting orders online regardless of the size of the store or the specifications of their current app or website, thus adding a new sales channel. They can also manage their order history themselves, which leads to effective marketing activities based on data insights about their website visitors.
In January 2021, it established DoorDash Technologies Japan Ltd. (DoorDash Japan) in Tokyo with the aim of developing services in Japan. In June, they launched their service in Sendai City as its first location in Japan. This is the third overseas expansion outside of the U.S., following Canada and Australia, and the first in Asia. Sendai was chosen as the first location to begin its business because "it is a large city with a population of over 1 million, with a sufficient market size. It also has a good balance between urban and suburban areas," explains Ryoma Yamamoto, Country Manager of DoorDash Japan.
DoorDash Deliverer (Dasher)
Upon establishing its Japanese base, JETRO's Invest Japan Business Support Center (IBSC) provided information and consultations (registration, visa, tax, and labor), and introduced service providers (tax accountants, labor and social security attorneys, and interpreters).
JETRO supports your business in Japan
JETRO IBSCs are located in Japan's major business hubs and provide one-stop support and service to foreign firms seeking to set up or expand business in Japan. The centers, which provide free temporary office space, consultation with expert advisors and access to a wealth of business information, tailor support according to the specific needs and phase of development of each firm.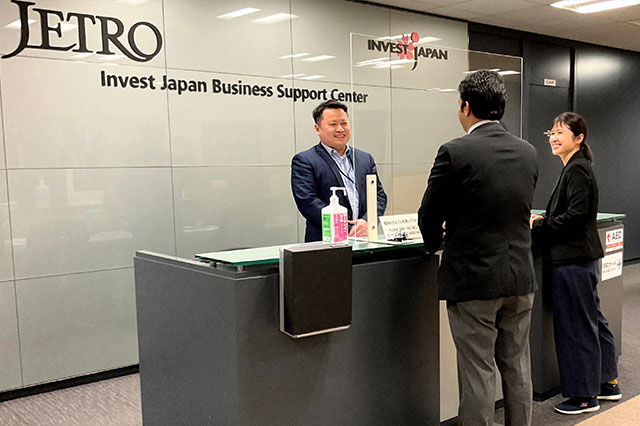 Contact Us
Investing in Japan
We will do our very best to support your business expansion into and within Japan. Please feel free to contact us via the form below for any inquiries.
Inquiry Form
JETRO Worldwide
Our network covers over 50 countries worldwide. You can contact us at one of our local offices near you for consultation.
Overseas Offices