Business Expanding

The Japanese subsidiary of Realtime Robotics Inc., a U.S. company that provides motion planning for industrial robots, steadily expands its business
Realtime Robotics Inc.

is a developer of artificial intelligence-related software founded in Massachusetts, U.S. in 2016.
Establishment

2020/05
Destination

Tokyo
---
ICT

Machinery & Semiconductor

USA
With the aim of application to industrial robots, the company develops proprietary processors and software dedicated to motion planning which recognizes changes in the environment in real time (a technology for generating optimal paths in the presence of obstacles and other constraints). The system can automatically generate robot motion paths to prevent collisions without programming work even against unpredictable obstacles that may occur at any time in manufacturing sites of any industry. This will greatly reduce the robotic programming time required for newly constructing or modifying production lines, and also realize safe collaboration between industrial robots and workers, contributing to a significant reduction in product manufacturing costs.
The company established its Japanese subsidiary, Realtime Robotics K.K in Tokyo in May 2020. Since then, it has hired several new employees for the Japanese subsidiary, and is steadily expanding its business activities in earnest.
Upon establishing its Japanese base, JETRO's Invest Japan Business Support Center (IBSC) provided temporary office space and introduced service providers (administrative scriveners and banks).
JETRO supports your business in Japan
JETRO IBSCs are located in Japan's major business hubs and provide one-stop support and service to foreign firms seeking to set up or expand business in Japan. The centers, which provide free temporary office space, consultation with expert advisors and access to a wealth of business information, tailor support according to the specific needs and phase of development of each firm.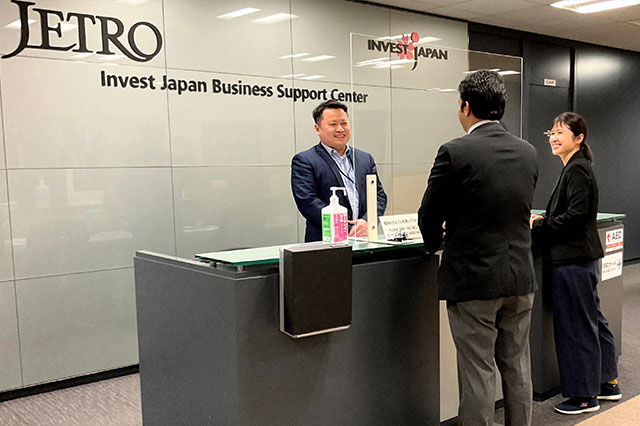 Contact Us
Investing in Japan
We will do our very best to support your business expansion into and within Japan. Please feel free to contact us via the form below for any inquiries.
Inquiry Form
JETRO Worldwide
Our network covers over 50 countries worldwide. You can contact us at one of our local offices near you for consultation.
Overseas Offices