Business Expanding

OneOcean, a global digital maritime solutions provider, establishes a Japanese subsidiary in Tokyo
ChartCo (UK) and Marine Press (Canada), leaders in digital voyage navigation solutions, merged their business in November 2019 to provide efficient and comprehensive services. As the world's largest maritime solution provider, they launched a wide range of services for the safe operation of vessels.

Establishment

2020/02
Destination

Tokyo
---
Automobiles &Transportation Equipment & Aviation

Service

Canada

United Kingdom
It provides services to about 20,000 vessels from more than 2,600 companies in 100 countries worldwide. The company's comprehensive platform connects vessels to shoreside teams and enables real-time visibility into safe operations management for ships and ship operation and management companies. It also supplies accurate and up-to-date information on the local marine environment and helps crews make critical decisions for passage planning while ensuring thorough compliance.
In Japan, more than 1,000 vessels are using the company's products. In February 2020, it established OneOcean Co., Ltd.

in Tokyo for further business expansion into the market. The company aims to accelerate digital transformation in Japan's marine industry.
Upon establishing the company's Japanese base, JETRO's Invest Japan Business Support Center (IBSC) provided consultation on the establishment of the company (registration, visa, tax, and labor), and introduced service providers (certified public accountants, tax accountants, real estate companies, and banks).
JETRO supports your business in Japan
JETRO IBSCs are located in Japan's major business hubs and provide one-stop support and service to foreign firms seeking to set up or expand business in Japan. The centers, which provide free temporary office space, consultation with expert advisors and access to a wealth of business information, tailor support according to the specific needs and phase of development of each firm.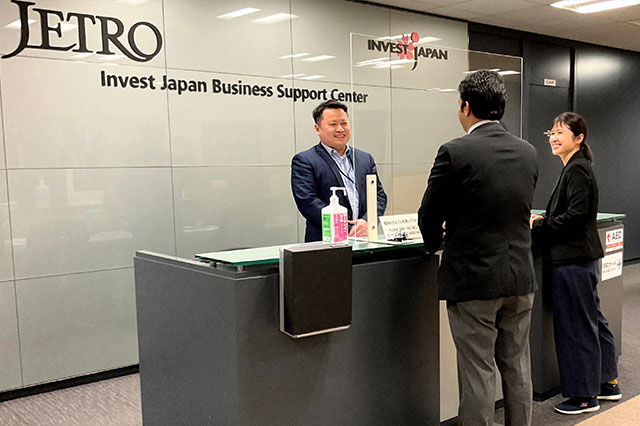 Contact Us
Investing in Japan
We will do our very best to support your business expansion into and within Japan. Please feel free to contact us via the form below for any inquiries.
Inquiry Form
JETRO Worldwide
Our network covers over 50 countries worldwide. You can contact us at one of our local offices near you for consultation.
Overseas Offices