Business Expanding

Implant Solutions PTY, LTD, an Australian company innovating the dental implant prosthesis market with CAD/CAM, commences full-scale operations at its manufacturing base in Osaka
Implant Solutions PTY, LTD (trading as Osteon Medical

), established in Melbourne in 2007, is a manufacturer of customized dental implant prosthesis, using high-precision CAD/CAM (computer-aided design/computer-aided manufacturing) processing technology with digital solutions.
Establishment

2020/01
Destination

Osaka city , Osaka
---
ICT

Biotechnology & Lifescience

Australia
Osteon Medical develops and creates a broad range of hardware solutions within the dental implant industry. The company is responsible for the design and manufacture of implant componentry, single, bridge, and full-arch implant hardware. Osteon Medical has worked closely with local and international labs to provide quality and lifelong hardware for patients and clients alike.
In January 2020, Implant Solutions PTY, LTD established Osteon Digital Japan Inc. in Osaka City to develop total dental implant solutions in response to the rapidly advancing digitalization and to provide customized dental technology for Japanese patients by setting up a manufacturing base in Japan. In August 2021, the company announced a strategic collaboration with Kyocera Corporation, and in September, Kyocera will begin selling customized dental implant prosthesis utilizing the company's digital technology. This will revolutionize the dental implant market by delivering the company's products and solutions from its manufacturing facility in Osaka to dentists and dental technicians in Japan.
Dental implant prosthesis produced with the latest CAD/CAM processing technology
Upon establishing its Japanese base, JETRO's Invest Japan Business Support Center (IBSC) provided temporary office space, consultation (registration, taxation, labor), introduction of service providers (judicial scriveners, administrative scriveners, tax accountants, patent offices, banks, real estate companies, and human resource companies), and market and regulatory information, in Osaka and Tokyo.
JETRO supports your business in Japan
JETRO IBSCs are located in Japan's major business hubs and provide one-stop support and service to foreign firms seeking to set up or expand business in Japan. The centers, which provide free temporary office space, consultation with expert advisors and access to a wealth of business information, tailor support according to the specific needs and phase of development of each firm.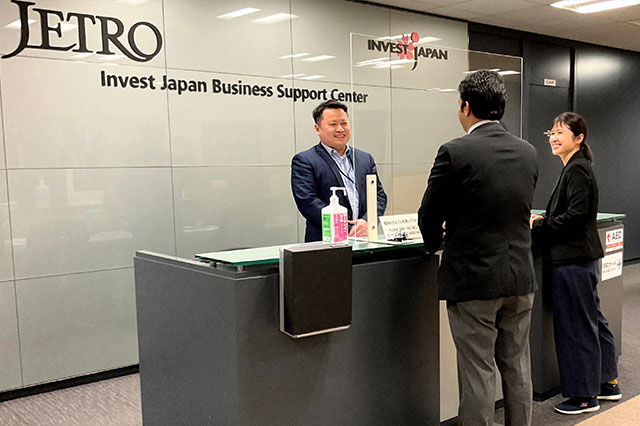 Contact Us
Investing in Japan
We will do our very best to support your business expansion into and within Japan. Please feel free to contact us via the form below for any inquiries.
Inquiry Form
JETRO Worldwide
Our network covers over 50 countries worldwide. You can contact us at one of our local offices near you for consultation.
Overseas Offices