Business Expanding

Exotec, a French developer and manufacturer of robotic picking system for warehouses, establishes a Japanese subsidiary in Tokyo and sets up a warehouse in Kyoto Prefecture
Exotec

is a French robotic company that develops and manufactures flexible automation solutions for warehouses of retailers, e-commerce players, and manufacturers. Founded in 2015, it has a total of 300 employees in Europe, United States, and in Japan. Exotec is developing its business in nine countries around the world with revenues expected to exceed 100 million dollars in 2021. In September 2020, the company raised 90 million dollars in a Series C round of investment.
Establishment

2020/01
Destination

Tokyo
---
ICT

Machinery & Semiconductor

France
The company's automated picking robot system "Skypod" can move in three-dimensions up to a height of 12 meters at a speed of 4 meters/second with a loading capacity of 30kg. By effectively utilizing space to store inventory at a high density, the storage volume can be increased by five times compared to the conventional shelf-type picking. In addition, it is possible to introduce additional shelves and robots quickly and in stages according to inventory volume and business flow without interrupting operations, which is one of the features of the system that allows client companies to invest in warehouses at the pace of their business expansion. The warehouse control system "ASTAR" manages the work plan, and tracks and records the positions of cases and robots in the warehouse in real time.
Workers do not enter the area where the fleet of Skypod robots does automatic pick-up, and they can concentrate on packing the goods that Skypod has retrieved and brought to them. As a result, the system is improving productivity by up to fivefold compared to manual picking in a traditional work environment, eliminating repetitive, physically intense tasks of operators, such as walking 15km per day or relentlessly bending and lifting goods.
In January 2020, the company established EXOTEC NIHON CO., LTD. in Tokyo with the aim of cultivating new customers and responding to existing customers. In Q1 2020, a warehouse was set up in Kyoto Prefecture and its full-scale activities in Japan are under way. In Q4 2021, its office will relocate to Minato Ward.
In November 2019, EXOTEC NIHON CO., LTD. and FAST RETAILING CO., LTD. announced the conclusion of a strategic global partnership to realize supply chain reforms. The deployment of close to 1,000 Skypod robots is on-going, and in Q3 2021, the company's robots began operation for the first time in Japan, preparing orders for store replenishment at UNIQLO's Kobe warehouse
Upon establishing its Japanese base, JETRO's Invest Japan Business Support Center (IBSC) provided regulatory and institutional information, introduced service providers and arranged meetings with them, and provided subsidies and incentives information, real estate property information, and also provided consultation (registration, visa, tax, and labor).
JETRO supports your business in Japan
JETRO IBSCs are located in Japan's major business hubs and provide one-stop support and service to foreign firms seeking to set up or expand business in Japan. The centers, which provide free temporary office space, consultation with expert advisors and access to a wealth of business information, tailor support according to the specific needs and phase of development of each firm.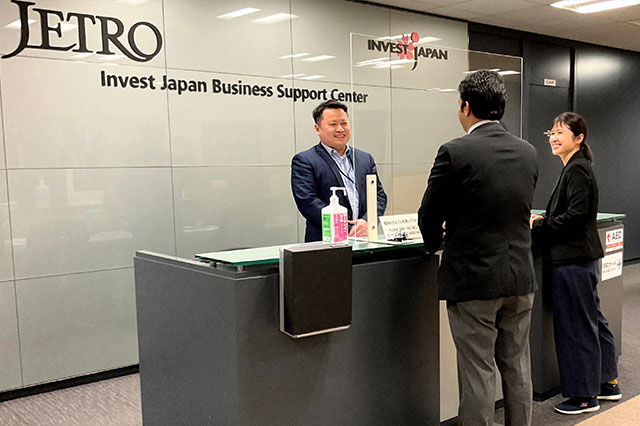 Contact Us
Investing in Japan
We will do our very best to support your business expansion into and within Japan. Please feel free to contact us via the form below for any inquiries.
Inquiry Form
JETRO Worldwide
Our network covers over 50 countries worldwide. You can contact us at one of our local offices near you for consultation.
Overseas Offices