Latest Updates

Schulke & Mayr GmbH, a German company that manufactures and sells infectious disease control products, establishes Schulke Japan LLC in Tokyo
Schulke & Mayr GmbH

is a German medical hygiene company that manufactures and sells infectious disease control products for medical institutions. In Japan, as Air Liquide Japan's healthcare and hygiene business unit, it took over Johnson & Johnson's hand disinfection products in 2015 and has supplied infectious disease control products for medical institutions.
The company's origins date back to the development of disinfectants against the cholera epidemic in Europe at the end of the 19th century. Amid the COVID-19 pandemic, the German headquarters conducted tests on "mikrozid® Universal Wipes Premium", disinfection wipes with low alcohol content used mainly in medical care-related facilities, and "mikrozid® Sensitive Wipes", alcohol-free wipes primarily used in dental clinics and scientific research facilities. Both passed the European Standards (EN14476) using the novel coronavirus (SARS-CoV-2). These two products, which are not subject to the Japanese pharmaceutical laws and regulations (categorized as miscellaneous products), are already sold in Japan, contributing to the prevention of infections, including COVID-19, at Japanese medical facilities.
In Japan, together with partner companies, it supports healthcare professionals to prevent infections and manage hygiene through product development, domestic manufacturing, and distribution. The company also imports and sells preservatives and other raw materials for cosmetics. It provides preservative testing services based on global trends and regulations, and offers proposals based on the results of these tests. Many cosmetic companies in Japan use its ingredients. To accommodate the expanding business, the company established Schulke Japan LLC in Tokyo in June 2020.
Upon establishing its Japanese base, JETRO's Invest Japan Business Support Center (IBSC) provided consulting (tax) and market information.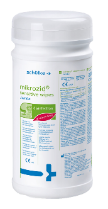 Contact Us
Investing in Japan
We will do our very best to support your business expansion into and within Japan. Please feel free to contact us via the form below for any inquiries.
Inquiry Form
JETRO Worldwide
Our network covers over 50 countries worldwide. You can contact us at one of our local offices near you for consultation.
Overseas Offices