Latest Updates

Thai developer of application for online queuing system QueueQ establishes subsidiary in Japan
Queue Q

is a startup that developed and is operating "QueQ," an application that enables customers to check their queuing tickets for shops or restaurants in Thailand.
Through the company's QueQ mobile app service, customers can make reservations within two kilometers of establishments and then spend their time on other activities instead of waiting in line. From the establishment's perspective, in addition to the direct effect of making it easier to acquire customers by streamlining the reservation process, the application brings benefits in terms of marketing by enabling efficient store management and business expansion through the collection of big data on customer behavior. In this manner, the app has benefits for both users and businesses, and the expansion of the company's activities in Japan in the future is expected to contribute to productivity by increasing the efficiency of Japanese people's use of time and improving understanding of their behavior patterns.
QueueQ established QueQ Japan Co., Ltd. in Fukuoka City in April 2019. It plans to gradually increase its current workforce. With Fukuoka as its headquarters, it also aims to expand into Tokyo and Osaka.
To assist with the establishment of the company's base in Japan, the JETRO Invest Japan Business Support Center (IBSC) provided consultation on tax and labor matters and information on the market. It also introduced service providers.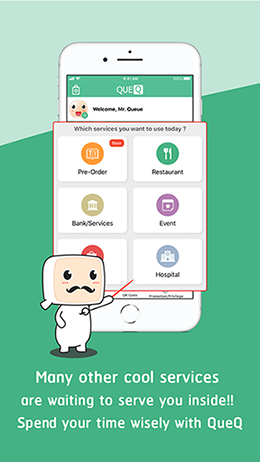 Contact Us
Investing in Japan
We will do our very best to support your business expansion into and within Japan. Please feel free to contact us via the form below for any inquiries.
Inquiry Form
JETRO Worldwide
Our network covers over 50 countries worldwide. You can contact us at one of our local offices near you for consultation.
Overseas Offices