Latest Updates

US leader in Salesforce consulting, implementation and app development Cadalys Inc. establishes corporation in Tokyo
Founded in 2008 in San Francisco, Cadalys Inc.

offers a powerful next-generation help center called Cadalys Concierge on the Salesforce platform as an AppExchange application.
Salesforce, which is synonymous with Software as a Service (SaaS), is currently employed by more than 180,000 companies.
By combining keyword matching, a rating function, personalized searches and recommended actions, Cadalys Concierge allows employees of these enterprises to get the right information quickly without wandering in the dark seeking solutions on their own.

Unilever selected Cadalys Concierge in November 2017, beginning with an initial deployment for around 60,000 employees.
After three years of rollout, the company is using it in 96 countries around the world.
This approach is based on the Knowledge-Centered Service (KCS) methodology: accumulating content as a by-product of problem solving on an internal-knowledge basis, evolving it based on needs and evaluation, updating the collective experience of the organization to date and being conscious of learning, collaboration, sharing and improvement.
Cadalys Concierge functions as a smart office—or back-office—tool that defies the conventional wisdom of "finding for yourself" solutions to problems, improving labor productivity by saving the time for searching.
Cadalys Inc. established its first overseas base in Minato Ward, Tokyo in February 2019 to find new customers and expand its business in Japan.
The company plans to release an IT Service Management (ITSM) application based on the Information Technology Infrastructure Library (ITIL), a collection of best practices for IT services, as a Salesforce AppExchange application in March 2020.
Utilizing its experience of providing solutions for companies cultivated at Cadalys Concierge, it aims to promote digital transformation by launching services for Japanese companies seeking to improve service quality.
To assist with the establishment of the company's base in Japan, the JETRO Invest Japan Business Support Center (IBSC) provided temporary office space as well as consultation on labor matters.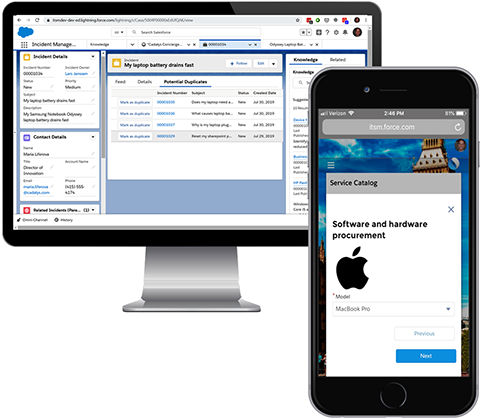 Contact Us
Investing in Japan
We will do our very best to support your business expansion into and within Japan. Please feel free to contact us via the form below for any inquiries.
Inquiry Form
JETRO Worldwide
Our network covers over 50 countries worldwide. You can contact us at one of our local offices near you for consultation.
Overseas Offices