Latest Updates

Wellspring Worldwide Inc., a leading company in the field of platform dedicated to innovation, establishes a Japanese subsidiary in Tokyo
Wellspring Worldwide Inc.,

founded in 2003, is an Illinois-based company that develops and provides the world's most popular innovation platform for managing and executing technology transfer and technology scouting. Wellspring is a spin-off of Carnegie Mellon University, which was ranked the world's No.1 in computer science.
Conventionally, technology transfer and scouting were inefficient manual processes, because there was no automation in their management system. To address this problem, Wellspring Worldwide Inc. has developed two integrated management systems, "Wellspring" and "Sophia," for corporate and academic institutions, enabling users to manage the entire process, from the selection of technologies and potential technology partners to investment decision, evaluation, and acquisition. In addition, institutions and companies that implement these systems can actually transfer, license, and scout technologies and intellectual property through "Scout," a technology search and analysis system that boasts the worlds largest and most accurate database. The 94 of the top 100 universities by research spending in the U.S. use Wellspring's systems, and by major Japanese companies and universities as well.
In December 2019, the company incorporated Wellspring Japan GK in Tokyo in order to strengthen its customer support services and acquire new customers. In April 2020, Wellspring Japan set up an office and began business operations on a full-scale.
Upon establishing the company in Japan, JETRO's Invest Japan Business Support Center (IBSC) provided temporary office rentals, provided consultation (registration, tax, and labor), and introduced service providers (certified legal specialist for company registration, tax accountants, social insurance and labor consultants, banks, and service office agency).
What is unique about Wellspring's technology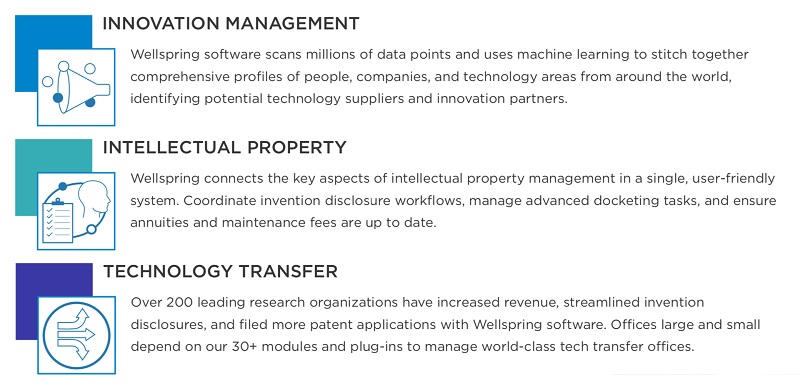 Contact Us
Investing in Japan
We will do our very best to support your business expansion into and within Japan. Please feel free to contact us via the form below for any inquiries.
Inquiry Form
JETRO Worldwide
Our network covers over 50 countries worldwide. You can contact us at one of our local offices near you for consultation.
Overseas Offices