Latest Updates

Global distributed ledger platform provider Hedera Hashgraph opens mainnet to public

Hedera Hashgraph

provides a public distributed ledger platform for organizations that create distributed applications. Following Bitcoin, which is called the first generation of blockchain technology, and Ethereum, the second generation, Hedera Hashgraph is referred to as the third generation. While the technology (platform) of Bitcoin and Ethereum is based on blockchain (a consensus algorithm), Hedera Hashgraph is a public distributed ledger based on the Hashgraph algorithm.
Companies and developers face hurdles in the following four areas when using blockchain technology.
Performance (fewer than 10 transactions can be made per second, the average transaction fee costs as much as 0.2 dollars and the average confirmation time for a transaction is as slow as 10 - 60 minutes)
Security (lack of consensus finality: technically no transaction is approved and verified with 100% possibility)
Governance (lack of transparency as it is unclear who is using what criteria to operate the platform)
Stability (blockchain is not stable due to the occurrence of ledger forks)
To address these issues, Hedera Hashgraph includes elements that make it easier for organizations of any size to create distributed applications as follows.
Performance (the network can process thousands of cryptocurrency transactions per second, the average transaction fee is only 0.0001 dollars and consensus latency is measured in seconds)
Security (the company achieves the gold standard for security in the field of distributed consensus: asynchronous Byzantine Fault Tolerant (aBFT) security that is resistant to DDoS and Sybil attacks and achieves settlement finality)
Governance (the Hedera network will be overseen by a governing council consisting of 39 global enterprises across 18 industries in five continents to conduct highly transparent governance, the term for which is set at for a maximum of six years)
Stability (ensuring stability by using software patents defensively to prevent forks)
The Hedera codebase will be governed by the Hedera Governing Council, which currently comprises the following 10 companies.
Boeing, the world's largest aerospace company and leading manufacturer of commercial jetliners, defense, space and security systems
FIS, a major US financial services company
Tata Communications, the largest telecommunications company in India
IBM
Deutsche Telekom, Europe's largest telecommunications company
Nomura Holdings, Inc.
DLA Piper, a global law firm with lawyers located in more than 40 countries
Magazine Luiza, one of Brazil's largest retail companies
Swisscom Blockchain AG, a Swiss telecommunications company and blockchain systems integrator (SIer)
Swirlds Inc., holder of the patent titles to the Hashgraph consensus algorithm and the originator of Hedera
Hedera Hashgraph announced that open access to its mainnet beta version occured on September 16, 2019. With open access, the Hedera Hashgraph network offers three services (cryptocurrency, smart contract and file service). Currently, 33 companies in the world have released public distributed applications and hundreds of companies are currently engaged in development.
The "Hedera Consensus Service," will be released in 2020, and is the industry's first initiative to bring together the capabilities of third-party, private, permissioned ledger with the trust of Hedera Hashgraph (public ledger). In the future, the company aims to spread the platform with major Japanese companies. As distributed applications have conducted over 20 million transactions since open access, it is expected that companies representing Japan will have more opportunities to drive the spread of this technology together with companies around the world.
To assist with the establishment of the company's base in Japan, the JETRO Invest Japan Business Support Center (IBSC) provided temporary office space, information on the market, consultation on registration and business matching. It also introduced a PR agency.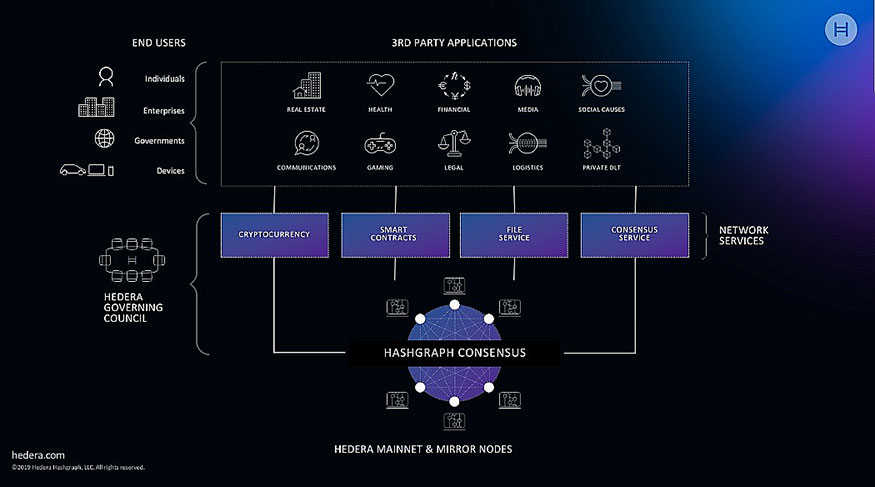 Contact Us
Investing in Japan
We will do our very best to support your business expansion into and within Japan. Please feel free to contact us via the form below for any inquiries.
Inquiry Form
JETRO Worldwide
Our network covers over 50 countries worldwide. You can contact us at one of our local offices near you for consultation.
Overseas Offices