Latest Updates

UK online international school Nisai Group launches first office in Kyoto
Nisai Group

was founded in 2004 and is approved by the UK's Department for Education as a provider of online education. Nisai Virtual Academy, managed by the group, is accredited as a Cambridge International School, through which exams hosted by Cambridge Assessment International Education can be taken. In this regard, it offers programs through which middle and high school students around the world can receive International General Certification of Secondary Education (IGCSE), the international version of the exam certifying completion of compulsory education in the UK used to gain entry into certain universities across the globe, and the international equivalent of UK advanced level qualifications (A levels) that meet the entry requirements of a number of the world's top universities.
In addition, lessons are delivered live by UK qualified teachers. Nisai Group has a wide range of courses aimed at children as young as five to adults live from the UK, including training for teachers. The classes are small with a maximum of 15 students, and each student has a tutor who supports the progress of learning and provides career counseling apart from the teacher in charge of each subject. Nisai Group is the only online education provider in the UK to have achieved a grade of "good" in the school inspection by the Office for Standards in Education (Ofsted). Outside the UK, it provides quality education to students in countries like Thailand, China, Sri Lanka, India, Vietnam and the Philippines.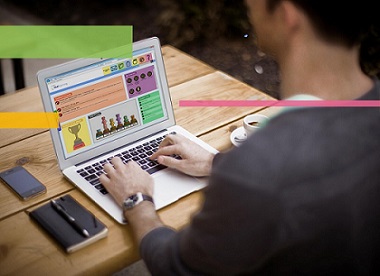 In Japan, Nisai Japan Co., Ltd. was established in December 2018 at Kyoto Research Park. Its goal is to contribute to the "Super Global High School" system designated by the Ministry of Education, Culture, Sports, Science and Technology—which aims to foster globalized leaders who will able to play active roles on the international stage through high school education—and to provide teachers with English language training courses that correspond to new English education requirements for elementary schools in Japan beginning in 2020.
In the future, Nisai Japan, as the group's regional headquarters in Asia, will provide an international curriculum for Asian junior and senior high school students who want to advance to high schools, universities and graduate schools overseas. In addition, it intends to support the Japanese language education of foreigners working in Japan.
To assist with the establishment of the company's base in Japan, the JETRO Invest Japan Business Support Center (IBSC) provided consultation on company registration, market information and business matching. The IBSC also introduced local service providers (a certified legal specialist for company registration and visa application, bank and PR agent) and local government officials.
Contact Us
Investing in Japan
We will do our very best to support your business expansion into and within Japan. Please feel free to contact us via the form below for any inquiries.
Inquiry Form
JETRO Worldwide
Our network covers over 50 countries worldwide. You can contact us at one of our local offices near you for consultation.
Overseas Offices