Latest Updates

Internet-Based Business Group in Thailand establishes corporation in Tokyo for providing SNS analysis tool
Internet-Based Business Group is a start-up company in Thailand that provides companies with SNS marketing services utilizing proprietary SNS analysis tool "Zanroo."

The company was established in 2013 in and raised the equivalent of 7.4 million US Dollars from venture capital firm Shift Ventures. It has business in more than 15 countries, mainly in the Asia-Pacific, including bases in Singapore, Malaysia and Myanmar. Internet-Based Business Group started with an expansion to the US and Chinese markets and has a plan to provide services in Europe in 2018. It aims to advance to 40 markets by 2019. Its primary customers are banks and automobile, telecommunications, e-commerce, aviation and consumer goods companies.
Zanroo is a "social listening" tool that conducts analysis by comprehensively collecting content posted by residents from local media such as SNS and blogs. It has functions for visualizing analysis results onto maps and managing SNS posts as well as communication with users. The company also provides services such as brand monitoring, market research and consulting utilizing real-time online big data through Zanroo.
In addition, Internet-Based Business Group is the only provider of its kind of services in Southeast Asia to acquire "information security management system certification (ISO/IEC 27001)." With expectations to expand business overseas, the company—which has until recently operated primarily in Southeast Asia—established its first base outside of the region in Japan in April 2017, Zanroo Japan Co., Ltd. In April 2018, it set up an office in Chiyoda Ward, Tokyo and began operations. The group had decided in advance to begin collaboration with major Japanese companies in terms of sales and with universities for educational purposes. In addition to expanding business in Japan it is also considering establishing operations in Europe and the United States in the future.
For the establishment of its Japanese base, the JETRO Invest Japan Business Support Center (IBSC) provided temporary office space, and consultation (on registration, visa, taxation and labor matters). IBSC also introduced service providers (administrative scrivener, tax accountant, certified social insurance labor consultant and real estate agency).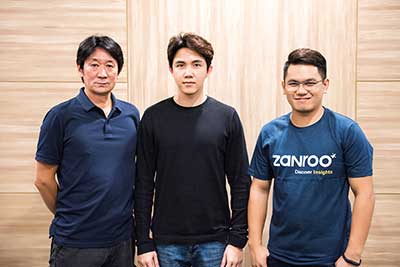 Contact Us
Investing in Japan
We will do our very best to support your business expansion into and within Japan. Please feel free to contact us via the form below for any inquiries.
Inquiry Form
JETRO Worldwide
Our network covers over 50 countries worldwide. You can contact us at one of our local offices near you for consultation.
Overseas Offices