Latest Updates

Robot manufacturer Shenzhen Makeblock establishes corporation in Tokyo
Shenzhen Makeblock Co., Ltd

is a company that researches, develops and manufactures robots for education, research and entertainment. The company was founded in 2013, with headquarters in Shenzhen, known as the "China's Silicon Valley," and has more than 450 employees. They mainly develop robots (hardware and software) that contribute to science, technology, engineering and mathematics (STEM) education. Shenzhen Makeblock offers their products to more than 4.5 million users in more than 140 countries and regions worldwide.
STEM education is already popular in the US. With programming education to be adopted as a compulsory subject at elementary schools from the fiscal year 2020 under the Japan Revitalization Strategy 2016, STEM education is expected to be promoted in Japan as well. It was under these circumstances that the company began selling the Makeblock series of programming and educational robotics kits in Japan through distributors in the fall of 2016. In September of that year, Makeblock Japan Co., Ltd. was established in Tokyo to expand sales in the country. They will cooperate with SoftBank Commerce & Service Corp., and will contribute to developing STEM education in Japan in the future through the sale of programmable modular drones.
For the establishment of their Japanese base, the JETRO Invest Japan Business Support Center (IBSC) provided consultation on registration, visa, taxation and labor matters and introduced an administrative scrivener.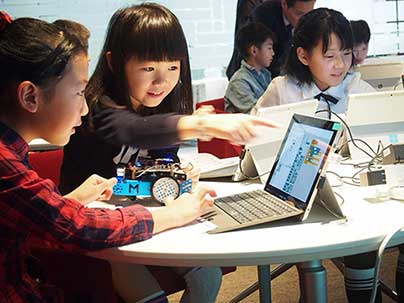 Contact Us
Investing in Japan
We will do our very best to support your business expansion into and within Japan. Please feel free to contact us via the form below for any inquiries.
Inquiry Form
JETRO Worldwide
Our network covers over 50 countries worldwide. You can contact us at one of our local offices near you for consultation.
Overseas Offices