Partnering for Carbon Neutrality: ICE and Asian Gateway

Cross-border collaboration aimed at helping Asian businesses get to net zero
As the world transitions to a post-pandemic economy, businesses are also changing. Companies are turning to open innovation to solve various social issues such as climate change, overpopulation, or health care availability collaboratively. They are also reaching across borders, and an increasing number are turning to Japanese companies, to bring solutions to more people.
The Japan External Trade Organization (JETRO) introduced its new business platform "J-Bridge" in 2021, aimed at accelerating international collaboration and open innovation between Japanese and overseas companies. It provides information on collaborations, invitations to collaboration events, one-on-one meetup services, and other support, through its special website called "DX Portal." One compelling example of this is a partnership between climate risk analytics provider Urgentem, which was acquired by Intercontinental Exchange, Inc. (NYSE: ICE) in July 2022, and environmental consultancy Asian Gateway Corporation of Japan. The partnership illustrates the benefits of working with Japanese companies, which can act as bridges into the large markets of Japan as well as Asia itself.
Helping businesses go green
Under the 2015 Paris Climate Accords, 192 countries worldwide and the EU agreed to limit the rise in global temperatures and slash greenhouse gas emissions to achieve net-zero by the middle of this century. To achieve those lofty goals, emissions must be measured and monitored.
Urgentem, which is now part of ICE's Sustainable Finance business, analyzes the carbon emissions data of 5,500 companies by sector and industry. They provide these data and climate risk analytics to clients in the finance industry with the aim of empowering businesses to lead the way into a more sustainable, low-carbon economy. When Urgentem decided to expand its business in Asia, it set its sights on Japan as an ideal partner.
European companies have led the way in the low-carbon transition, but Japan and the rest of Asia are catching up. In one example of this, the Tokyo Stock Exchange (TSE) revised the Corporate Governance Code in 2021, written as "companies listed on the Prime Market should analyze the impact of climate-related risks and earning opportunities on their business…and enhance the quality and quantity of disclosure based on the Task Force on climate-related Financial Disclosures (TCFD)*."
"We looked to Japan to establish a partnership in Asia as we felt that climate disclosure and reporting were likely to evolve quickly in the coming years, providing us with an opportunity to offer our data, products and expertise to Japanese companies," says Ian Stannard, head of sustainable finance business development at ICE.
*

TCFD: TCFD refers to the Task Force on Climate-related Financial Disclosures, established by the Financial Stability Board (FSB)* at the request of G20 with Michael Bloomberg as its chair, to examine how climate-related information should be disclosed, and how should financial institutions respond.
Bringing climate solutions to Asia together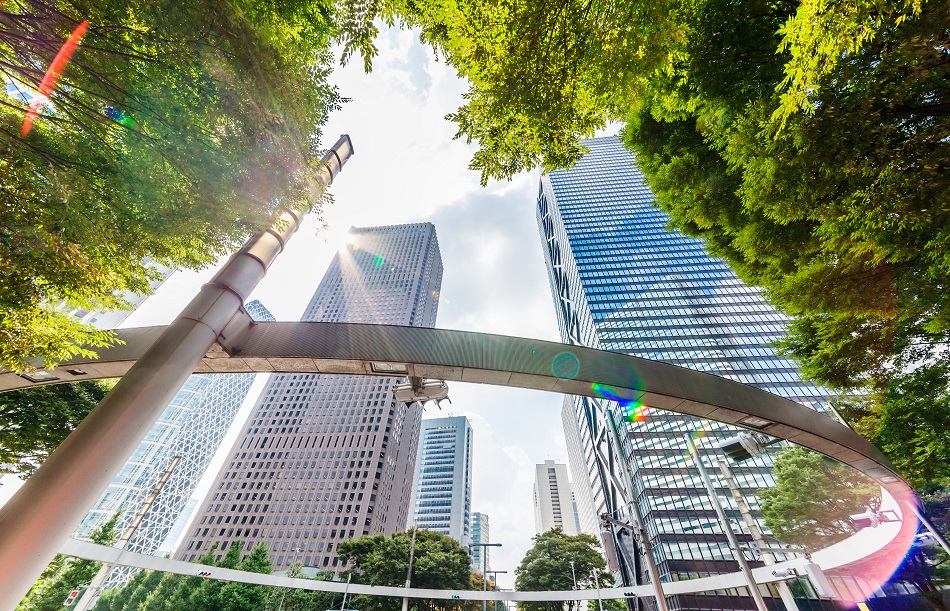 Through the J-Bridge platform, Urgentem teamed up in 2021 with Asian Gateway. The Japanese company was established in 2015 as a consultancy promoting smart cities, big data, zero-emission vehicles and renewable energy. Asian Gateway's specialized field is energy conservation and efficiency in the ASEAN area and South America through Japan's Joint Crediting Mechanism (JCM)**, an international cooperation system to lower emissions, as well as carbon emissions disclosure recommendations from TCFD.
"As a data science business, we are analyzing and visualizing data on corporate CO2 reductions to contribute to carbon crediting," says Tomonori Kimura, founder and CEO of Asian Gateway. "After making clear hot spots through TCFD, we propose how to decarbonize with JCM."
"It made a lot of sense to look at Asia to expand our business." says Stannard, "J-Bridge provided a good platform for us to showcase our capabilities and expertise in Japan for Japanese companies to discover our business and the services we have to offer."
Urgentem was interested in a partnership with a Japanese company with a view to providing climate data and solutions. "Asian Gateway had a very strong business model with regards to climate-orientated strategy in Japan and Asia, and partnering made a lot of sense."
**

JCM: The Bilateral Crediting Mechanism (JCM) is a mechanism to contribute to global warming countermeasures on a global scale through the diffusion of superior low-carbon and other technologies to developing countries, and at the same time, to appropriately evaluate the contribution to emission reductions from Japan and use it to achieve Japan's reduction targets.
Solutions possible only through collaboration
The two companies are now targeting businesses in Asia for consulting. They already have various interesting projects in Japan, Cambodia and Mongolia.
From the perspective of TCFD, the goal is to consult with Japanese companies and companies in Southeast Asia and Mongolia on strategic planning of risks and opportunities due to climate change, to initiate specific decarbonization projects, and to turn them into JCM projects, according to Kimura.
Urgentem's expertise will be critical to the partnership's success. As part of ICE, a global exchange operator and provider of sustainable finance data, Urgentem works with many climate- and science-aligned organizations such as the Science-Based Targets Initiative under the World Resources Institute.
Kimura notes that the UK is at the forefront of the climate economy and Urgentem's network - particularly when combined with ICE's European and global networks - is far more extensive than Japanese companies. He adds that from a stock exchange perspective, investors are obliged to be accurately informed of the environmental practices of listed companies, and in this respect, Urgentem is ahead of the curve.
"Urgentem combines the approaches of thinking in terms of parts and overall balance," says Kimura. "In other words, looking at the forest to see the trees and the trees to see the forest."
Room to grow
Asian Gateway's local knowledge and connections have proven key as it helps develop the local market for climate analytics in Asia. Now that it has a local partner, as well as a base in Japan through ICE, Urgentem sees a lot of room for growth in Asia.
"Regulation in Asia is developing quickly and that is seeing the need for the data and the tools to carry out the necessary analysis for the reporting to meet the incoming regulations," says Stannard. "So, the demand from Asia is likely to increase."
The two companies agree on the value of cross border collaboration as well as the social and environmental benefits their work promotes.
"We only have one planet," Kimura says when asked about the significance of international joint projects. "Crossover partnerships like this involve different countries, but we have to maintain our planet together as one team."
PROFILE
Intercontinental Exchange, Inc. (Urgentem)
Sustainable Finance Business Development
Ian Stannard
Asian Gateway Corporation
Founder and CEO
Tomonori Kimura
Contact Us
Investing in Japan
We will do our very best to support your business expansion into and within Japan. Please feel free to contact us via the form below for any inquiries.
Inquiry Form
JETRO Worldwide
Our network covers over 50 countries worldwide. You can contact us at one of our local offices near you for consultation.
Overseas Offices