Japan's booming data center market draws multinationals as digitization, 5G and AI drive growth
The magnitude-9 earthquake and tsunami that hit in Japan in 2011 marked a watershed moment for the country's cloud computing business. Just ask Colt Data Centre Services (Colt DCS). Only a few years earlier, the company––a unit of London-based Colt Technology Services, which was started by Fidelity Investments––had expanded its business of designing, building and operating data centers in Japan. After years of catering mainly to clients in the financial sector, Colt DCS was branching out, with new facilities in Inzai city, east of Tokyo.
The 2011 Great East Japan Earthquake was the turning point for making cloud-computing converts out of many Japanese executives. Before long, Colt DCS was meeting with potential clients eager to offer off-site data-storage-and-management services for Japanese companies. It was a major shift for corporate Japan, which had mostly preferred to keep data in-house. "Everybody moved to the cloud, and we've seen this accelerate over the past five years," said Padraig MacColgain, Colt DCS Vice President and Head of APAC.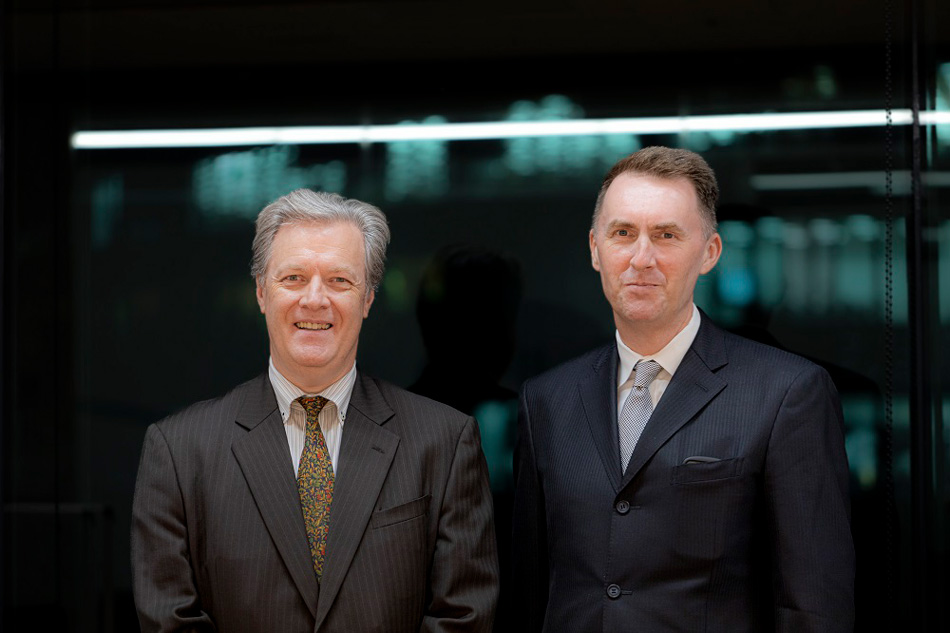 (From left) Gordon Hatton, Vice President and Head of Development and Delivery (Japan) and Padraig MacColgain, Vice President, Head of APAC
Colt DCS ventured into Japan in 1999 as a telecom company when deregulation opened up the nation's fiber-optic networks. In 2002, it opened its first data center in central Tokyo. The company, which has 14 data centers in Europe and Asia, now operates four facilities in the Greater Tokyo Area. Its largest is in Inzai, Chiba prefecture, a city favored by telecoms for its ground solidity–an important element in a country with earthquakes–and its business-friendly government. In Inzai, Colt DCS opened a hyperscale 27MW data center, Inzai 3, in November, 2020. Such is the demand for data centers that even before Inzai 3's launch, Colt DCS had pre-sold 94 percent of its capacity. In a region where demand for data centers outstrips supply, Japan is a strategic focus for Colt DCS, said CEO Niclas Sanfridsson.
The global data center market is booming, amid a coronavirus pandemic-fueled increase of e-commerce and shift to hybrid or remote work and learning. In Japan, the popularity of cloud-based video streaming services as well as efforts to move information on paper in file cabinets to databases are also seen as key drivers of growth. Fuji Chimera Research Institute forecasts that Japan's data center market will expand from 3.2 trillion yen (US23.5 billion dollars) in 2022 to more than 4.0 trillion yen (US29.2 billion dollars*) in 2026––an average annual rate of 5.5 percent.
As online data usage surges, the Government of Japan is racing ahead with its digitalization strategy, Vision for a Digital Garden City Nation. The measures combine big investments and regulatory reforms––rolling out a superfast 5G mobile network, laying more submarine cables surrounding the archipelago, and extending fiber optics links to 99.9 percent of Japanese households––that could lift the world's third-largest economy. It's a big deal for the country's 51.0 trillion yen (US370 billion dollars*) information communications technology industry, which accounts for nearly 10 percent of nominal GDP and is the world's third-largest.
* Converted at 138 yen to the US dollar
The infrastructure upgrades are crucial as new digital technologies and solutions reorder a broad spectrum of industries in Japan. Many innovative ideas and technologies originate from overseas. In the financial sector, Israel's OpenLegacy dispatched software engineers to overhaul mid-sized regional lender Shimane Bank's online operations and create a sophisticated website and a smartphone app that lets customers wire money and make payments online and at brick-and-mortar shops. Meanwhile, North Carolina-based nCino has created a cloud-based financial platform, with IBM Japan's support, that gives Tokyo-based Kiraboshi Bank complete back-office tools, streamlining workflow, automating services and upgrading monitoring systems.
In the transportation sector, Singapore start-up SWAT Mobility is deploying its data-analysis expertise in experimental trials around Japan that optimize package delivery routes and fleet usage and bring efficiencies to public bus schedules, boosting passenger numbers and cutting costs and emissions.
As companies and institutions push ahead with their digital transformation plans, data centers play a pivotal role. In Japan, the essential elements for the industry to flourish are already in place: densely populated urban centers, wide internet usage and speedy telecom networks. Adding to Japan's appeal are its political stability, strong legal protections and reliable electricity grid with very few power outages. Those factors matter for another reason: Japan's geographical and geopolitical potential as a future digital relay hub between the US and the Asia-Pacific region.
Entering a new market comes with plenty of challenges. Data center operators must cope with relatively high telecom and electricity costs and a complex power grid. Japan's mountainous terrain and frequent earthquakes can also complicate the search for suitable locations. Many of the largest data centers are concentrated around Tokyo, though recently Osaka, Japan's second-largest metropolitan area, has also been attracting investments from the likes of Equinix and Digital Realty's Interxion along with cloud service providers Google, Microsoft, and Amazon Web Services. The Government of Japan is now working on creating favorable conditions to build new facilities in smaller, regional cities like Tsuruga, Fukui prefecture, where electricity costs are lower and quakes are less common.
For Colt DCS, the opportunities outweighed the risks. Teaming up with Japanese firms and having access to owner Fidelity Investments' decades-long experience in Japan have worked to its advantage. In 2021, Fidelity, which has had staff in Tokyo since 1969, formed a 50-50 joint venture with Japanese trading company Mitsui & Co. and Mitsui & Co. Asset Management Holdings. By focusing on building hyperscale data centers and putting Mitsui in charge of property management, financing and marketing, the partners nearly tripled Colt DCS's capacity from 50 MW to 140MW. Their most recent project is a 45MW facility on 42,000 square meters in Keihanna Science City, near the Kyoto-Osaka-Nara tri-city area in western Japan, that's expected to open in 2023.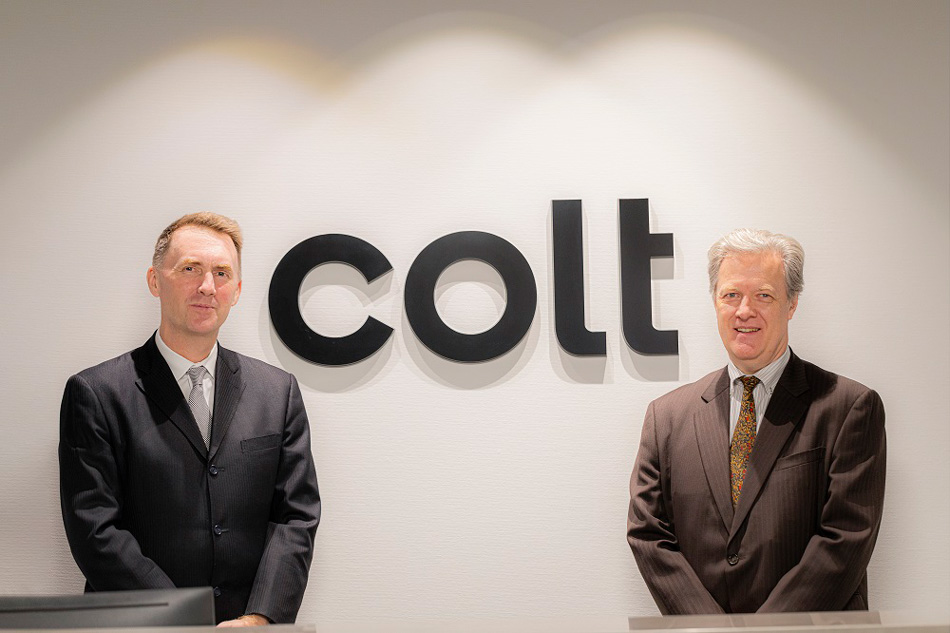 "We all know the stereotypes about relationships in Japan but there's a lot of truth to that," said Gordon Hatton, Vice President and Head of Development and Delivery (Japan) at Colt DCS. "It's really important to show that you've got commitment, that you've got capability, that you actually know what you're doing in this market, and we have people who have been here a long time in various capacities. That's so important for having long-standing relationships and building your market presence."
Colt DCS's early bet on Inzai, about 30 miles northwest of Tokyo, made it one of the first to grasp the area's importance. The city has since become a major data-center cluster thanks to its nearby power plants, robust transmission lines, supportive local government and proximity to the Tokyo metropolitan area, home to more than 30 million residents. Japan's goal of attaining carbon neutrality by 2050 was also attractive to Colt DCS because of the company's own ambitious sustainability targets, spanning waste water to carbon emissions.
"We have seen incredible growth in terms of the size of our data centers, and a lot of return customers, such as global customers who work with us throughout the world," says MacColgain, Colt DCS's Vice President. "We're going to continue growing in Japan and continue to look for hyperscale customers."
KEY TAKEAWAYS
Bottom Line:
Multinationals are expanding their presence in Japan's growing data center market.
Growth Drivers:
Japan's data center market is expected to grow 5.5 percent annually from 2022 to 2026.
Government of Japan's broad digitalization strategy covers key infrastructure––5G network, submarine cables, fiber optics.
Japan's 51.0 trillion yen (US370 billion dollars) ICT industry is the world's third-largest.
Japan has densely populated cities, wide internet usage, and fast telecom networks.
Corporate Japan's digitization and digitalization efforts are now underway.
Data-center hubs have access to nearby power plants, robust transmission lines and populated urban centers.
Political stability, strong legal protections and reliable electricity grid add to Japan's geographical and geopolitical potential as a future relay hub between the US and Asia-Pacific.
Local Japanese partners can help with customers relations, land acquisition.
Japan's goal of attaining carbon neutrality by 2050 aligns with the data center industry's sustainability targets.
Government of Japan is creating favorable conditions to open data centers in smaller, regional cities.
Challenges:
Japan's telecom and electricity costs are relatively high.
The country's mountainous terrain and earthquakes complicate the search for suitable locations to build data centers.
Contact Us
Investing in Japan
We will do our very best to support your business expansion into and within Japan. Please feel free to contact us via the form below for any inquiries.
Inquiry Form
JETRO Worldwide
Our network covers over 50 countries worldwide. You can contact us at one of our local offices near you for consultation.
Overseas Offices