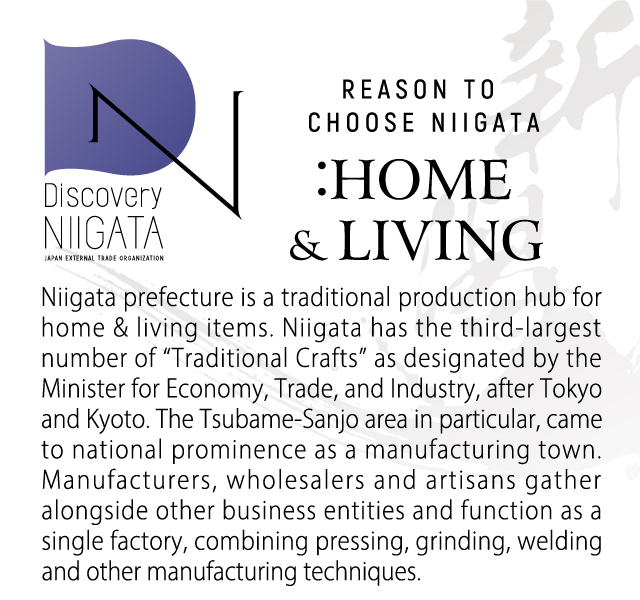 Kitchenware
"A kitchenware production hub"

A venue making kitchen knives, pots, pans, and various other kitchenware, with nowhere else in Japan shipping more metal pressing products by value.

"Making any materials into stylish products"

Stainless steel, steel, plastic and even titanium, which is difficult to process, are made into attractive products.

"One of the two largest kitchen knife production areas"

More kitchen knives are produced in Tsubame-Sanjo than anywhere else, except for Seki City in Gifu Prefecture. "Forged cutlery", forged by hammer blows and "stamped cutlery" produced by pressing are both famous.
Tableware
"The birthplace of metal flatware in Japan"

In 1911, the first metal flatware in Japan was manufactured in Niigata Prefecture, which still to this day, produces 95% of such items by total shipment value.

"Outstanding techniques to realize attractive designs"

Exploiting pressing, grinding, welding and other high-level techniques has paved the way for numerous attractive products. As well as western metallic kitchenware, the scope also includes tumblers and coffee tools, which have been honored with design awards in Japan and overseas.

"Proficient artisanship incorporating history"

Hammered copperware("Tuiki copperware") is a masterpiece produced by techniques passed down from over two centuries ago.
Hand tools and others
"Japan's largest hand tool production area"

With the highest shipment value in Japan, the lion's share of the manufacturing business has come from exports since 1930 or so.

"A hairdressing styling blade approved by professionals"

One well-known product is the nipper-type nail clipper - a familiar item in Europe. The value of hairdressing blades shipped is the second highest in Japan.

"A mecca for outdoor and DIY items"

Camping and DIY have both thrived recently and Niigata is home to many popular outdoor and DIY manufacturers.
Contact
JETRO Niigata

e-mail: NIG@jetro.go.jp