More Online Distribution Opportunities for Japanese Businesses -Launch of Japanese Green Tea E-Commerce Site in the U.S. powered by Shopify-
The Japan Food Product Overseas Promotion Center (JFOODO) will launch an e-commerce site powered by Shopify*1 on March 3, 2021 to support the expansion of Japanese green tea sales in the U.S. market.
The launch will provide a new chance for Japanese businesses to sell Japanese green tea to the U.S. market with a less complicated process that may have discouraged them in the past. Businesses will be able to place their products on the e-commerce site free of charge. Rakuten Global Trading USA, Inc. (RGTU), a Rakuten Group company, will purchase the products from businesses in Japan, coordinate the import/export procedures, and sell the products on their behalf in the U.S.. This will only be available to Japanese businesses partnered with JFOODO, using products agreed with RGTU.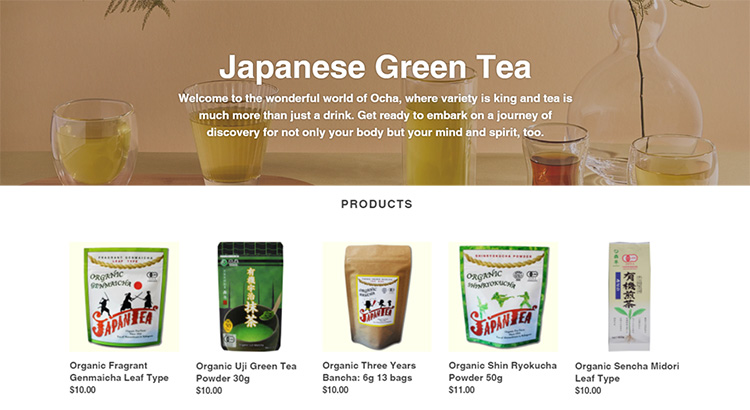 New e-commerce site: Japanese Green Tea

In the U.S., the green tea market is worth approximately166.4 million USD. and the value of Japanese green tea exported to the U.S. has nearly doubled in the past five years. E-commerce transactions in the U.S. tea market are increasing by the year, and purchase intent for Japanese green tea has been particularly high among millennials.*2 Based on these trends, JFOODO launched a dedicated Japanese green tea page on Amazon.com site in FY2017 and placed digital ads to guide consumers to the page. The new e-commerce site will use Shopify's inventory services which also allow businesses to sell their products on Walmart's e-commerce site.
The Japanese green tea promotional website (Ocha - Japanese Green Tea

) that was redesigned in August 2020 will guide consumers to the Amazon page, individual businesses' e-commerce sites, as well as the new e-commerce site powered by Shopify. JFOODO intends to increase consumption of Japanese green tea by giving more choices for consumers to purchase.
Walmart.com: Walmart.com | Save Money. Live Better.

*1. Shopify
Shopify was established in 2004, and fully entered the Japanese market in 2017. It is a cloud-based e-commerce platform handling multichannel sales, that allows anybody to easily start up an e-commerce site. Shopify is used by over a million online shops in 175 countries (as of October 2020).
*2. Millennials
The generation born between 1981 and 1996 (ages 24 to 39 as of 2020).
The Japan Food Product Overseas Promotion Center (JFOODO) was established on April 1,
2017 within JETRO. JFOODO will devote its resources to the branding of Japanese
agricultural, forestry, fishery and food products. To further boost the export of the products,
JFOODO will work to create a stronger platform for overseas B to C promotions and
branding projects that stimulate international demand. To learn more, visit
The Japan Food Product Overseas Promotion Center(JFOODO) (JETRO)
The Japan Food Product Overseas Promotion Center (JFOODO)
Overseas Promotion Division
Tel: 03-3582-8345 E-mail: JFB@jetro.go.jp