Meet Japanese Companies with Quality
Conserving energy and cutting costs with Eco Keeper

System Instrumentation co,. Ltd.
Website: System Instrumentation co,. Ltd. (Japanese)


Category: Japanese Machinery
Automated energy conservation
At the establishment of System Instrumentation almost 30 years ago, the company worked doing automation for the production of TV, video and radio cassette recorders for big electronics makers like Sony and Panasonic. They later moved on to make a prototype energy-saving device in collaboration with a venture capital company, but the product wasn't successful for various usability reasons.
After analyzing the shortcomings of the first model, the company developed the Eco Keeper, a controller for air conditioning systems both new and old. The Eco Keeper can be used with any inverter made by any company, and requires minimum maintenance and setup by the customer. When attached to a heating, ventilation and air conditioning (HVAC) system, energy use can be cut by up to 60 percent.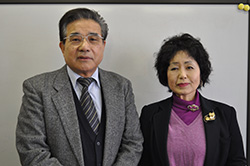 Dramatic cost savings
The Eco Keeper is especially useful in large buildings and businesses with central air conditioning. The controller is connected to the existing system and works to regulate the circulation of water, monitoring the flow with a sensor and sending data to the controller. The controller then sends commands to the system to ensure the minimum cycle necessary to maintain the temperature is performed. Overall changes in temperature after installing the unit are within just one degree Celsius, so the majority of users won't notice a difference. The results, though, are remarkable.
One printing company saved an estimated 5 million yen (almost $50,000) in a year after installing the device. Other companies have saved 40 to 60 percent and more in their average energy use. The Eco Keeper has been installed in factories, hotels and government buildings, with customers including Omron, Fujifilm Global Graphics Systems, Kyocera and the Tokyo Metropolitan Government.
Our energy future
The bigger the operation, the more energy the Eco Keeper can save. It works best in a building that's at least five stories and uses power for at least 12 hours per day. This makes it ideal for use in factories and printing companies, and it's already being implemented in major newspaper corporations and hotels. Though most of the companies using the device are domestic, many international companies are now using it in their overseas factories.
As global energy costs climb, demand for the Eco Keeper grows. In addition to rising usage charges, a push to reduce CO2 emissions has resulted in new environmental laws being passed in many countries. System Instrumentation is working to help reduce consumption and hopes to increase the energy savings by the Eco Keeper from 60 to 70 or even 80 percent-a device that can help both businesses and the environment thrive.
---
Website: System Instrumentation co,. Ltd. (Japanese)