Meet Japanese Companies with Quality
Elevating standards in safety and reliability

Sanei Manufacturing Co., Ltd.
Website: Sanei Manufacturing Co., Ltd.


Category: Japanese Machinery
Independent engineering
Against a world of big elevator manufacturers, Sanei Manufacturing Co., Ltd. has carved out its own niche. The company started in 1972 when founder Yasuzo Kaneda left his engineering job at an elevator-maker and applied his know-how and experience toward the production of lifting equipment for elevators. Strong growth over the years has seen Sanei Manufacturing become a respected brand in its field, both locally and internationally.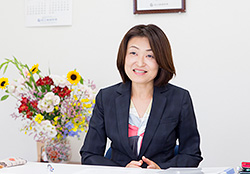 Specializing in elevator traction machines
Yasuzo Kaneda's daughter, Kyoko Nagumo, took the reins in 2002. She says her clients include those using elevators in buildings averaging 10-15 floors or places such as restaurants that need small service lifts to send food products up or down. Approximately 80 percent of the company's revenue comes from traction machines for elevators, while the remaining 20 percent comes from small service lifts and other elevator-related parts such as control panels. Sanei traction machines are installed in many of Japan's major television companies as well as a large Japanese stage venues where its machines are used to raise and lower lighting equipment.
The gearless SGL Series
Sanei still produces its worm gear SKE Series-the very first product built by Nagumo's father-yet she notes it's still increasing demand today in Japan and other countries. Dispensing with gears yields a machine that's slimmer and more compact, eliminating the need for an extra room above the elevator to house bulky machinery, leading to construction cost reduction and the new production of the SGL Series gearless machines.
Strict standards for safety
Mitsuhiro Kaneda, the Senior Managing Director guiding the business, points out one important difference between Sanei Manufacturing's products and those from other countries: support for Japan's strict safety standards. Buildings in Japan-and subsequently elevators-are expected to last 25 to 30 years and resist earthquakes, while compared to Japan overseas competitive manufacturers may only design their products with shorter. Nagumo remembers customers who purchased the company's machines when they were first produced some 40 years ago and told her: "We're still using your machine."
Lifting loads around the world
With around 250 customers in Japan alone, Sanei initiated international exports 20 years ago. Kaneda cites installations in places as far away as Saudi Arabia and Uganda, and now plans to focus more on the Middle East and Turkey. To allow the customers to safely use the products at their location, Nagumo says the company invites them to send employees over for training on elevator maintenance. Sanei Manufacturing is not only interested in elevating sales but also raising the standards of quality and safety.
---
Website: Sanei Manufacturing Co., Ltd.