Meet Japanese Companies with Quality
A touch of quality

ICHINA Co., Ltd
Website: ICHINA Co., Ltd


Category: Japanese Design & Daily goods
The world at your fingertips
With touchscreen smart devices constantly in our hands, touch-enabled gloves are fast becoming an essential accessory in the cold parts of the modern world. From those made of cheap synthetic materials to conductive hand-warmers of plush merino wool, most people will have seen a few varieties-and had a hand in them.
Traditional craft meets modern technology
Gloves block the electrical conductivity in your fingertips, preventing you from using your touchscreen. Therefore, gloves need to be made conductive. The theory is simple, but the first Japanese firm to put it in practice, four years ago, was Ichina Co., Ltd.
Based in Higashi-Kagawa-home to 95 percent of Japan's glove-making industry-Ichina adds modern design and technology to the city's 120 years of tradition. Ichina makes a wide variety of products including tube-neck scarves, earmuffs and plenty of conventional gloves. But its current flagship product is the Pitakuro Touch line of touchscreen-enabled gloves.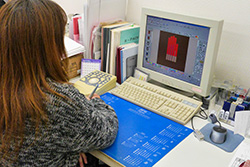 Details for digits
What sets the Pitakuro Touch glove apart is quality, pure and simple. From the design and selection of materials to the production process, quality control and attention to detail are the primary concerns of Ichina's designers. Materials are chosen to be durable, flexible and hard-wearing, yet thin, light and easy to use. Known weak points are reinforced to make sure the gloves last. And, crucially, the touch-sensitive tips are tested to ensure utmost precision when customers are tapping away.
Hand in glove
From research to mass production, Pitakuro Touch gloves are developed in-house. Ichina regularly confirms its products are not only functional but stylish and attractive, too. The designers are always experimenting with new materials and combinations to push the boundaries of what a shopper might expect. While all Ichina's products are designed using specialized software and manufactured on an automated production line, each glove is hand-finished and thoroughly inspected before it's packaged and shipped.
A helping hand for the world
In early 2014, Ichina is teaming up with distribution partners to release new lines of its Pitakuro Touch gloves in France. Visionaries at the firm are aiming to grow its European market from there. They're also looking into future partnerships in China and the US. The Pitakuro Print glove is made from ultra-thin materials that still keep your hands warm. And it features a design aesthetic tailored to the tastes of non-Japanese customers. But Ichina's designers aren't sitting on their hands; they're busy developing all-new product lines to take the wearable-technology market forward.
---
Website: ICHINA Co., Ltd