Meet Japanese Companies with Quality
London, Paris, Milan, New York... Osaka

NAKAGAWA CO., LTD. Brand Name: NICO. nicholson and nicholson
Website: NAKAGAWA CO., LTD. Brand Name: NICO. nicholson and nicholson


Category: Japanese Apparel & Textiles
Select fashion, complementary design
Founded in 1948, Osaka-based Nakagawa Co. Ltd. sells high-end men's and ladies' clothing at its select stores and boutiques. The company has two in-house fashion labels: O Gran Naso! is its menswear range with an established customer base in Japan, and NICO. nicholson and nicholson-which is also available internationally-is its ladies wear series.
Headed by president and lead designer Yusuke Nakagawa, the NICO. nicholson and nicholson label is easygoing and free-spirited with a trend toward simplicity and relaxation. Design inspiration comes from the company's menswear line and pieces are made to be a long-term part of its customers' wardrobes.
The collection's centerpieces are its shirts, designed to be light and simple yet still command a subtle presence. The rest of the items in each season's collection are designed to complement the look and design of the tops.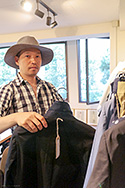 A timeless aesthetic
Unlike other fashion labels, Nakagawa's creations are not single-season items. While they do release new collections each season, they often feature items that were designed for previous seasons either because of their popularity or their timeless aesthetic. This means customers can easily combine them with other pieces regardless of when they buy them. The designs also lend themselves to being paired with items from other labels that follow a similar style. The goal is to create comfortable clothing that customers will want to wear continually.
Japanese quality
The NICO. nicholson and nicholson and O Gran Naso! lines are products for a niche market. Rather than appeal to a large audience, Nakagawa prefers to keep its designs focused on discerning customers who love the style and know that they're buying quality, Japanese-made fashion pieces.
The family aspect of the business is one of the label's big strengths. Both Nakagawa and his wife are equally passionate about the design process and that combined passion shines through in the quality of the clothing they create. The company's small size sets it apart from the larger labels because the designs and collections have a sense of continuity-one that lasts much longer than competing brands that often rotate designers every few seasons. This system definitely has an appeal to the customers they are targeting both Japan and abroad as they are on sale in leading select shops in cities abroad, including New York and Paris. And they are talking to buyers to extend their style to customers in other parts of the world.
Refreshingly Osaka
While Osaka isn't a global fashion capital, it is a city with a production pedigree. The tradition of monozukuri (the Japanese art, science and craft of creating things) is seen in the quality of the products they produce. While the designs themselves may be simple, they're made with extreme focus and attention to detail. The Nakagawas' Kansai-inspired creations are also more accessible and approachable than those coming out of cutting-edge Tokyo studios. And for a label whose designs are supposed to be easygoing, there's no better place in Japan to find their muse.
---
Website: NAKAGAWA CO., LTD. Brand Name: NICO. nicholson and nicholson