Meet Japanese Companies with Quality
Traditional skills meet modern design

momentum factory Orii, Co.,Ltd.
Website: momentum factory Orii, Co.,Ltd.


Category: Japanese Design & Daily goods
Best of both worlds
Japan is a country of beautiful contrasts. While on the cutting edge of science and technology, the traditions, culture and crafts of its past still thrive. This juxtaposition of tradition and technology gives the country its vibrant character. One company that has managed to embrace aspects of both these worlds is Momentum Factory Orii.
The science of art
The company was established in 1950 by Takejiro Orii in Takaoka City in Toyama Prefecture. They specialized in the coloring of brass by using chemical reactions to form an oxidized layer that protects the brass from the elements but can also give it a different hue. While the coloring process is based on scientific principles, the means by which these chemical reactions are created are a traditional technique that has been passed down three generations to the current CEO, Koji Orii.
Originally, Momentum Factory Orii used traditional oxidizing agents like rice vinegar and nukamiso (a paste used to pickle vegetables), layering them with rice stalk brushes and then heating the agents to produce the protective colored layer. It's a time-consuming process and to withstand the heat, the brass or copperware needs to be quite thick and expensive. Their work has included the lights on the bridge to the Imperial Palace and the 41-meter sleeping Buddha statue at Nanzouin Temple in Fukuoka. The service was essentially inaccessible to most people and too steeped in tradition for modern lifestyles.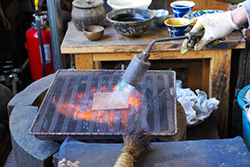 Tradition modernized
At the turn of the century, the company began looking at how they could bring their craft into the more mainstream market. The first challenge was reducing the size and scale of the materials to help lower the cost. Through tough trials and many errors, Koji Orii managed to adapt their art to allow them to work with thinner materials. In the process, they also developed techniques using chemicals like ammonia to enhance the traditional recipes-and have thereby expanded the palette they offer to over 14 distinct colors. The colors can then be combined with one another, patterned and spotted to make each commission unique.
The primary focus of the business is on large-scale paneling for reception areas, wall units, entrance facades and doors. Their work can be seen in many modern architectural settings including landmarks like Roppongi Hills. They also do smaller work including clocks, custom light fixtures, door handles and storage boxes, as well as collaborative work with designers and manufacturers of brass and copperware. Because all the work is done by hand, they can custom color anything that's made from or coated in brass.
Global aspirations
Momentum Factory Orii currently sells some of their smaller items internationally via online Japanese goods stores. Their primary goal, however, is to negotiate contracts with construction companies and hotels to use their unique paneling in their structures. Additionally, they're looking to form partnerships with international companies and artisans to color their products before they're made available for sale.
---
Website: momentum factory Orii, Co.,Ltd.