Meet Japanese Companies with Quality
Pumping the way to a cleaner future

Mitsuwa Pump Co., Ltd.
Website: Mitsuwa Pump Co., Ltd.


Category: Japanese Machinery
From irrigation in Kenya to beer in Japan
Mitsuwa Pump Co., Ltd. is a family operation that spans three generations. Established in 1956 by Yoshio Kobayashi, the company has provided thousands of slurry pumps for United Nations and UNICEF agricultural projects in countries such as Laos, Kenya and Cambodia, aiding refugees with irrigation and helping to provide clean water. Now under the leadership of Mikio Kobayashi, current president and CEO, and COO Saburo Kobayashi, the company continues to develop high quality, industrial-grade pumps for use in manufacturing plants, waste treatment facilities and environmental technology firms. The spectrum of companies using Mitsuwa pumps is as broad as the variety of jobs they can do. Industry giants such as Bridgestone Tire, Hitachi, Sharp, Toyota and more, employ them for uses ranging from safely transporting industrial waste to removing grit and particulates during the beer brewing process-so you can enjoy a clean and smooth brew.
Built better to last longer
Mitsuwa's pumps, which are all made at the company's headquarters in Mie Prefecture, feature several innovations that make for a longer-lasting, more efficient machine. The special design of their patented impeller in the SMJ/O series of self-priming sludge removal pumps is designed to avoid clogging, a common problem with other pumps that have raised instead of hollowed-out blades. The rubber lining in their SM-RZ and COR series pumps effectively reduce corrosion and ensure a longer working life. The lining, along with the double, mechanical seal of the casing and bearing, guarantees a perfect seal and means corrosive waste, such as the strong acids used by semiconductor companies, doesn't leak out and damage the environment.
Fine craftsmanship means that Mitsuwa pumps last far longer than their competition and require about 50 percent less aftercare. When called upon for maintenance, Mitsuwa will repair the pumps to maintain their effectiveness. The small company size means each machine receives personal care and attention.
Protecting our water supply for future generations
With pumps already in use in several Southeast Asia countries, Mitsuwa plans to partner with a company in Thailand this year to better service their growing user base in the region.
Mitsuwa's pumps are engineered for minimal maintenance, reduced running costs, restricted leakage, and can be customized to a client's exact specifications. By producing superior quality pumps, accompanied by excellent customer service, the Mitsuwa Pump Company plans to continue working for the protection and preservation of one of our most precious and finite natural resources-clean water-now and for the future.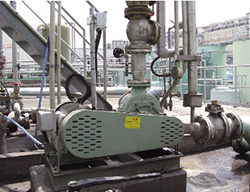 ---
Website: Mitsuwa Pump Co., Ltd.