Meet Japanese Companies with Quality
Reinventing a classic tradition

Marumatsu Meibokuten Co., Ltd.
Website: Marumatsu Meibokuten Co., Ltd.


Category: Japanese Design & Daily goods
From factory floor to president
Marumatsu Meibokuten Co. Ltd. in Akita Prefecture is a company with 60 years' experience in the wood manufacturing industry. Its second-generation president, Shigeru Uemura, has been working there almost since its start-he began helping out in the factory as a middle school student. After graduating high school, he spent a few years away at university and then at another wood-related company to gain some outside experience before returning and taking over the reins at the head office.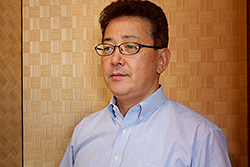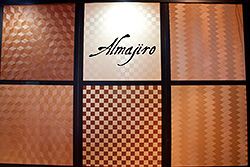 Akita Lumber Marumatsu Ajiro
Though Marumatsu Meibokuten products are open to a variety of uses and suggestions from its clients, one of its specialties is Almajiro woven, sliced-wood veneer. The name is a half-anagram made up of the words "Akita Lumber Marumatsu" with "ajiro" ("wickerwork") on the end and sounds similar to armadillo in Japanese pronunciation. Uemura chose the name, as it's an animal many people know-it's considered both strong and cute-and many have positive associations with it. Similarly, the company's wood veneer is strong when completed even though the strips are fragile on their own.
Versatility is key
Almajiro veneer is made from natural wood strips that are woven and adhered together by skilled craftsmen. This weaving method has been a traditional part of Japanese culture for centuries-intertwined timber and coated ceilings used to be a common sight in Japanese homes.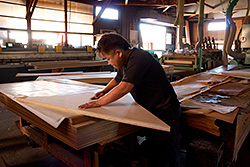 It helps that Almajiro itself is extremely versatile. Due to the thinness of the sliced wood, almost any kind of tree can be used-from hardwoods such as oak, ash and zelkova to the more traditionally used cedar, cypress and pine. Not only do these tree types offer a number of color options but there are also six different weaving methods. Add the number of lumber types-especially if two or more are used in the same veneer-to all the color and pattern combinations and the possibilities are almost endless. Almajiro can also be cut and bent easily into a variety of shapes to attach to furniture, walls, doors, lamps and stairs; the only limits are the consumer's imagination.
Strong tradition with modern innovation
Japan's people and culture have had a deep relationship with wood for centuries, and Marumatsu Meibokuten Co., Ltd. is moving those ancient arts and craftsmanship in a new direction-one filled with possibilities. The company continues to build on its experience in making specialized Japanese traditional items as well as its innovativeness in creating entirely new and useful end products. Uemura hopes to work with furniture manufacturers and wholesalers worldwide who are interested in a sophisticated, time-honored wood veneer with a modern day application. To find great partners like this, following the previous year, Marumatsu Meibokuten Co., Ltd will be exhibiting in the 2015 Maison & Objet in Paris to expand overseas. This is his way of passing on "this wonderful culture of wood" for generations to come.
---
Website: Marumatsu Meibokuten Co., Ltd.