Meet Japanese Companies with Quality
A world of precision

KSS Co., Ltd.
Website: KSS Co., Ltd.


Category: Japanese Machinery
Mother of invention
Necessity has driven KSS Co., Ltd., headquartered in Ota City, a Tokyo ward well-known and respected for manufacturing, since it opened its doors in 1964. Although founders Tadanori Shinohara and Yoshifumi Ohta engaged in manufacturing gauges when first established, they learned precision miniature ball screws were in urgent demand, and started mass-producing the item in 1978. Ever since, KSS has continued to grow and expand its product line-and its manufacturing facility in Niigata Prefecture, which has been expanded five times since 1984-while keeping abreast of changing needs. Not only did it develop the world's smallest ball screw in 2001-with a shaft diameter of 1.8 millimeter-but also it followed that up with a compact, coupling-free, motorized ball screw. Now entering its fifth decade, KSS continues to innovate. And its goal isn't to be the best-but to be the only.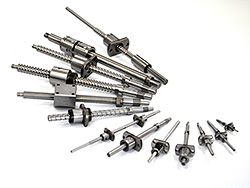 Building blocks
Primarily a maker of screws-precision ball, rolled ball, precision lead-KSS has expanded to create units such as motor-drive screws, actuators and electrical cylinders. Products like these increase the ease with which companies are able to use KSS technology-the unit can simply be added like a building block. Upping the usability factor even more is the KSS line of support products like compatible drivers, grease to protect ball screws and various other accessories. And the sales team provides stellar support; KSS has region-specific staff, resulting in quick, customized and knowledgeable service.
Hard work and determination
KSS is a double acronym. On the one hand, it stands for "Know-how," "Super quality" and "Safety motion." On the other, it's "Kindness," "Speed" and "Service." These keywords sum up the company's strengths as well as its philosophy; KSS doesn't just aim to be strong but to make a difference. The same traits that got it up and running within ten days of the Niigata Chuetsu earthquake in 2004 have powered KSS to the forefront of precision screw-making. KSS products have won numerous municipal and national awards, including the Super Craftsmanship Innovative Parts and Components Grand Prix. What's more, the company was named one of the 300 Vibrant Craftsmanship SMEs in 2008 by the government of Japan. And the recognition doesn't stop at awards. In 2012, KSS was featured as a leading SME by the Japanese national broadcaster NHK.
Innovating worldwide
KSS is no stranger to the international market, having made its first venture abroad in 1998 at the Hannover Messe industrial trade show held in Germany. Since then, KSS has participated in tradeshows the world over and entered into partnerships with a number of companies around the globe. Currently, 30 distributors represent KSS in 18 countries. From medical machinery to robotics, autofocus lenses to inspection and analysis equipment, KSS products are used across industries and continents-and, in the case of space-station components, even off the planet. How's that for universal vision?
---
Website: KSS Co., Ltd.