Meet Japanese Companies with Quality
Bringing color to the world

Nihon Rikagaku Industry co.,ltd.
Website: Nihon Rikagaku Industry co.,ltd.


Category: Japanese Design & Daily goods
Four generations of chalk
Yozo Oyama founded Nihon Rikagaku Industry, the first Japanese company to produce dustless chalk, over 75 years ago. Now into its fourth generation with President Takahisa Oyama, the company has two factories: its primary facility and corporate headquarters in Kawasaki and a secondary plant in Hokkaido. They have a strong presence in the domestic market producing chalk, chalk-related accessories and their flagship product, Kitpas. All of their goods are non-toxic, hypoallergenic and comply with Japan's strict safety standards.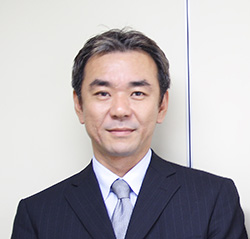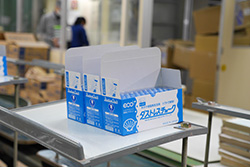 A brighter environment
Their Hokkaido factory recycles calcium from scallop shells that are discarded by the seafood industry. This ensures that a primary ingredient of the chalk production comes from a renewable, recycled material. An added benefit is the use of shells makes their white chalk brighter and clearer than many of their competitors.
Productive and differently abled
In 1960, the company was approached by a school for the disabled and asked if they could employ two girls who were about to graduate. Initially, the company declined; but the teacher persisted, and they decided to place the girls on a two-week job training. Their hard work and determination impressed the factory staff, who requested the girls be hired on a full-time basis. This was the start of the Intellectual Disability Employment Program that over the years has expanded to include the bulk of their workforce. Today, 57 of their 77 employees have intellectual disabilities. Their productivity reveals the term "disabled" to be a misnomer as their skill, dedication and pride are second to none.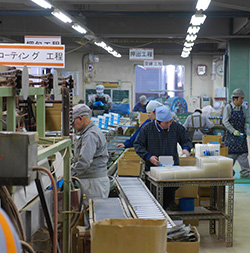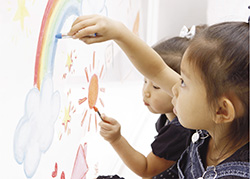 A creative innovation
The main focus of Nihon Rikagaku Industry is the domestic chalk market, but with little chance for expansion the company looked to innovate. They began developing a versatile, non-toxic, erasable writing product that would be able to help them expand their business further. The result was their flagship product: Kitpas. In 2009, Kitpas' 12 color-pack won the International Stationery Award Grand Prix in the Function Category at the 18th International Stationery & Office Products Fair in Tokyo.
Outwardly, Kitpas resembles regular wax crayons, but that's where the similarities end. They can adhere to multiple surfaces, including glass and tile, are resistant to light abrasion and yet are fully erasable. They're also water-soluble, which means they can be mixed and used like watercolor paints then washed off completely. Whether used to highlight projections on a board at a meeting, to promote specials on the windows of a restaurant or to draw on a kindergartener's school wall, Kitpas allows customers new avenues to creatively enhance their lives.
International colors
With the help of JETRO, and Kitpas leading the way, Nihon Rikagaku Industry has managed to partner with museums, universities and schools around Europe, in the US and parts of Asia. They now have repeat orders from companies in France, Austria and South Korea as well as standing OEM orders from such institutions as The Prado Museum in Spain. They plan to continue this steady expansion abroad by creating colorful, safe and inspired Japanese products for the rest of the world.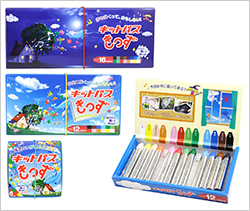 ---
Website: Nihon Rikagaku Industry co.,ltd.