Meet Japanese Companies with Quality
Memo Blocks and Drawing Pads

ITO BINDERY Co., Ltd.
Website: ITO BINDERY Co., Ltd.


Category: Japanese Design & Daily goods
A family affair
Spanning three generations and over 70 years, the Ito family has been in the paper business since 1938, when Haruo Ito opened a paper mill and bindery in Tokyo's Edogawa Ward. Now, Ito Bindery is run by his son, company president Toshio Ito, and grandson, Senior Vice President Masaki Ito. In fact, four of the employees of this ten-person company are members of the Ito family.
In the beginning, the bindery produced specialized notebooks for college students and also collaborated with printing companies to produce leaflets and pamphlets. Today, the company brings its decades of expertise to paper cutting, folding, binding and finishing. Though machines and technology have been updated over the years, and the expert craftspeople are adept in precision cutting and finishing work, they still do a lot of handwork. Using solid, old-fashioned tools and machines that are still delivering quality results decades on, these old-school touches follow a thread that connects the present to the past and honors the company's history.
Inspiring creativity
When it came time to design their own signature products, the bindery wanted to make something that communicated the culture of the company. Harking back to their origins making school notebooks, Masaki Ito remembers a more recent episode. "When I was a kid, we used to make notepads out of the paper remnants around the workshop, bind them together and give them to people in the neighborhood. They really enjoyed that." To this end, Ito Bindery partnered with designers on the Tenkei Project, a series of clean, elegant products that are easy to use and easy to make.
The result is a series of drawing pads and memo blocks that are stylish yet utilitarian-practical enough for everyday use but beautiful enough to be displayed on a desktop or drawing board. With a focus on designers and other creatives, the smooth edges and surfaces make the pads a pleasure to touch and hold; they're a perfect place to jot down a thought or sketch out an inspiration.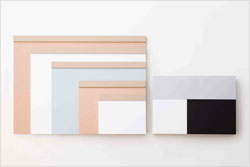 To the world
The drawing pad and memo line, which received a Good Design Award in 2010, has exhibited in Japan, India, Korea and France, and has been featured in trade and lifestyle publications such as Goods Press out of Japan and the UK's Monocle. The bindery has also collaborated with such brands as Muji and Toyota's Lexus to make simple, elegant stationery for limited release. The line is available in select shops worldwide, from boutique lifestyle goods shops in Seoul and Italy to well-known purveyors of taste such as the New York MoMA and Paris's Le Bon Marche.
---
Website: ITO BINDERY Co., Ltd.