Meet Japanese Companies with Quality
The tools that save lives

Hirata Precisions Co., Ltd.
Website: Hirata Precisions Co., Ltd.


Category: Japanese Machinery
Precision-crafted medical equipment
Even the most routine medical operation carries some risk. Doctors opening up a person's body try to make as small an incision as possible, and work on as small an area as possible, in order to minimize that risk. Fortunately experts are constantly working to provide tools and equipment that allow the lowest possible physical impact on patients' bodies.
Crafting better tools
Hirata Precisions' current flagship product is the Endo-Relief-forceps that can enter a patient's body through an extremely narrow port. Smaller incisions mean quicker healing times and little to no scarring. The shaft is made from titanium making it strong despite its mere 2.4-millimeter diameter. It also houses a finely crafted mechanism that allows interchangeable shafts, handles and jaws. Surgeons therefore have a number of options for any given operation. The Endo-Relief conforms to current ISO standards, so medical practitioners can focus on saving lives without worrying about the quality of their tools.
Made with doctors, for doctors
Hirata Precisions isn't a large medical manufacturer-and that's its biggest strength. It has the freedom to take product development further in discussion with the actual doctors, both in Japan and overseas, who use the equipment. Direct feedback means the firm can get on with improvements faster than larger companies with massive portfolios and large-volume production. Meanwhile, the doctors are happy; they can directly influence the development of their tools rather than hope the big corporations' R&D departments happen to develop tools that meet their needs.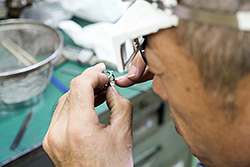 Quality craftsmanship
All products are produced at Hirata Precisions' factory in Chiba Prefecture. High-tech machinery is used to create the intricate components. The work focuses on precision more than speed, so yields are lower. But the quality is up to and often exceeds the ISO requirements.
With users in Japan, Europe, the Americas and Asia, Hirata Precisions' products have clearly made an impact. Approval by members of the medical profession is testament enough. In conjunction with customers, the company will continue to develop products at the forefront of the field. Hirata and his team are constantly pushing boundaries to ensure doctors can focus on the part of their job that matters-healing their patients in the safest way possible.
---
Website: Hirata Precisions Co., Ltd.