Meet Japanese Companies with Quality
Supporting drug discovery with automation

HASHIMOTO ELECTRONIC INDUSTRY CO.,LTD
Website: HASHIMOTO ELECTRONIC INDUSTRY CO.,LTD


Category: Japanese Machinery
Collaborating to innovate
Working in conjunction with researchers at Mie University and venture company Liposome Engineering Laboratory, Inc., Hashimoto Electronic Industry Co., Ltd has created the world's first automated, multi-functional, liposome manufacturing equipment.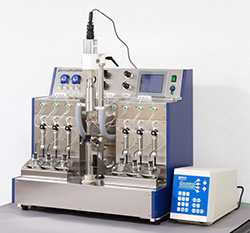 The promise of liposomes
Liposomes are small, cell-like capsules made from phospholipids, which are not more than several microns in size and often serve as packages for drug delivery systems. Liposomes can be used in a variety of ways such as in anticancer treatments, where the liposome binds to an individual cancer cell and delivers medicine directly inside the cell, and in vaccines. Although use in medicine makes up approximately 80 percent of liposome applications, the remaining 20 percent includes use in the cosmetics and food industries; liposomes help retain moisture in cosmetics or deliver a range of useful nutrients to health-conscious consumers in food products such as supplements.
The need for automation
The benefits of automated liposome equipment are significant. Producing liposomes by hand is complicated and time consuming, requiring approximately 10-15 hours. Obtaining the same result every time is an extraordinarly difficult feat due to the complicated process. Akihiro Okuno, a member of the sales group at Hashimoto Electronic Industry, mentioned how manual production is akin to the work of an artisan-where some excel, others have problems achieving the necessary quality. Students are actively involved in the research at university laboratories and, depending on the ability of the student, there can be vast differences in liposome outcome and the time required.
Automating liposome production
For each of these reasons, Hashimoto Electronic Industry's Liposome AutoMaker offers tremendous advantages. Time for liposome production has been reduced to a mere 30 minutes, and with cleaning, drying and other factors included, the total process time is only two hours. Liposome production with the AutoMaker is also reliable and easily replicable, and, most importantly, operators with little training can operate the equipment, making it accessible to a wider range of researchers engaged in liposome R&D.
A wide range of know-how
Mie University researchers developed the underlying technology behind the Liposome AutoMaker, but they relied on Hashimoto Electronic Industry's 30 years of business know-how in microelectronics to create the equipment. The company also produces medical devices, security systems such as electronic door locks, products for the auto industry and even control equipment for stage systems. "We offer our customers a one-stop service," said President Masatoshi Hashimoto as he explained how out of his 100 employees, 30 are engineers-his company can easily meet a customer's needs in each step of the product creation process, from planning to design to maintenance.
In regards to sales of its liposome technology, the company is looking expectantly at the market in North America, home to the most cutting-edge research in new drug development. As liposome R&D takes off, the company expects demand for its AutoMaker to increase as well.
---
Website: HASHIMOTO ELECTRONIC INDUSTRY CO.,LTD