Meet Japanese Companies with Quality
Cutting edge

Dremax, Inc.
Website: Dremax, Inc. (Japanese)


Category: Japanese Machinery
Family of innovators
Supermarket shoppers grabbing bags of chopped cabbage don't usually stop to think about the work that went into them. The daily processing of thousands of cabbages are required to supply hundreds of stores with leaves crisp and fresh enough to attract customers. And central to the process is the kind of industrial food-processing machinery developed by Dream Development Industrial Co., Ltd.-marketed under the brand name DREMAX.
Hideo Matsumoto founded DREMAX in 1970. He garnered early success by developing a rotary knife sharpener, then moved on to producing OEM food-processing machinery for other companies. Matsumoto and his team observed the limitations in the technologies of the time; they began evolving their own unique cutting and processing systems. Hideo eventually passed on the reins to his son. Eiji Matsumoto has added, to the continued development of innovative products, the task of expanding the brand internationally.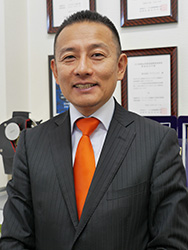 Quality engineering
Most DREMAX equipment is designed to process fruit and vegetables. If it needs to be peeled, sliced, ground or diced, DREMAX has the machine for the job. The company has two main target markets. First come the large-volume industrial food-processing companies. Executives at these firms are looking for machines to process massive volumes regularly, quickly and safely-while ensuring the end product remains appealing. These are usually standing machines that, while aesthetically suitable, are not designed to look pretty but to function at the very highest level. The second market is the restaurant or retail-food sector. These machines are smaller and usually designed for countertop use. Designers give the equipment a minimalist look to counterpoint the complexity of their function and emphasize ease of use.
Bigger isn't always better
The company's biggest strength is its small size. Developers evolve products in-house, ensuring they meet precise industrial safety and design standards. Additionally, customer feedback and interaction is encouraged. If a client has a particular food-processing need, DREMAX will develop the tool to meet it. As an industrial designer, Matsumoto takes a personal role in development. This not only inspires his team to give their best, but it removes bureaucratic barriers that often prevent larger corporations from delivering fast and effective solutions.
Eyeing a bigger slice
Currently DREMAX boasts distributors in Dubai, India, Singapore and parts of Europe. They're also planning to expand further into China and Southeast Asia. To ensure the firm can compete in the global market, the team is in the process of updating its lineup and developing machines that meet US and EU safety standards. Products are also on the way to process the fish, meat and poultry international consumers are looking for.
With the world's population expanding and development in emerging economies, there's an increasing demand for food processing of all kinds. DREMAX is stepping up to take a leading role in providing quality Japan-made machinery to meet these growing demands around the world.
---
Website: Dremax, Inc. (Japanese)