JETRO Global Connection -Accelerate Innovation with Japan-
Interview


Rising Above Borders


-How an Overseas Accelerator Helped a Japanese Startup Expand Their Network-

(Japan)
April 6, 2023
Yusuke Kaga (JETRO): For this interview, I invited two directors, Erdinc

and Yu Li

, from Founder Institute (FI)

, a pre-seed accelerator from Silicon Valley, and one of the Japanese startup participants in FI program, Mr. Anno

, from DELIGHT Inc

. So today, I would like to ask (i) FI program overview in Japan, (ii) feedback from Japanese startup about FI and other acceleration programs, (iii) DELIGHT Inc. business. So, could I start from the background of Erdinc and Yu Li?
Behind the Scenes: The Personal Journeys of Two Accelerator Managers Turned Entrepreneurs
Erdinc Ekinci (Founder Institute): My name is Erdinc Ekinci

. Most people know me from the Founder Institute

, but I'm also co-founder & CEO of Openfor.co

. It's a partnership development platform that incubates people and organizations who are open to collaboration from around the world. We help founders to build a partner program, arrange collaborations, to get validations and traction, and most importantly, get ROI fast with a simple membership plan. We also help larger enterprises, governments, and VCs to connect and collaborate with startups and any other partnerships that they wish to develop win-win relationships.
I was born and raised in Istanbul, Turkiye and have a master's degree in Communications. My background is primarily in business development and creative consulting. I have over ten years of experience working with startups internationally. I began my entrepreneurship journey when I was nine years old by selling toys in front of my school with my friend, and I've been in the startup world for the last 15 years since high school. I failed a startup in Silicon Valley, so I also have experience pivoting a business as well. I'm a networking junkie, and my life's purpose is helping other fellow entrepreneurs, so this is what I'm passionate about from the bottom of my heart. If you are an entrepreneur or would like to be, don't be shy, reach out! I'm very active on social media, especially on Linkedin.
Yu Li Shein (Founder Institute): My name is Yu Li Shein

. I wear three hats, which all complement each other. I am the Co-founder and COO of OpenForCo. We help startups validate and grow with collaborations which have a network of 3000 companies. I'm also the Co-director of Founder Institute Japan and CEO of the US branch of a Japanese consulting company, Global Innovation Consulting (GIC)

, which has 250 employees.
My background is in software engineering, and I have more than ten years of experience in business and partnership development. I am originally from Myanmar, and I'm trilingual. Since 2013, I have been in Japan, and I have also lived in India and Silicon Valley for a few years.
I was born on a small island of around 10,000 people, and my father is an entrepreneur. As a child, I was interested in selling dried fish and prawns for extra pocket money. Five years after I came to Japan, I became the CEO of the Silicon Valley branch of GIC. Living in Silicon Valley Bay Area sparked my entrepreneurial spirit, and I started to have a strong interest in startups. That's how I met Erdinc in Silicon Valley while staying in an "Entrepreneur Guest House" run by a Japanese family. Since Erdinc and I first met, we found that we shared so many values and interests. Fast forward, we started working together on consulting projects, became a couple, and started our company openfor.co. That's my story.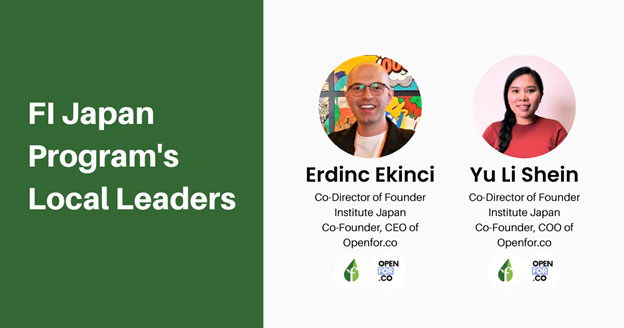 Erdinc and Yu Li, Directors from Founder Institute Japan (Provided by Founder Institute)
Overview of Founder Institute Unique Acceleration Program
Yusuke Kaga (JETRO): Okay, so both of you engage in a Japanese acceleration program as well as an entrepreneur in the startup. Then, could you let us know the overview of the Founder Institute program?
Erdinc Ekinci (Founder Institute): Okay, sure! So the Founder Institute, based in Silicon Valley, is the world's largest pre-seed startup accelerator with over 6000+ portfolio companies. It's in 200 cities in 90 countries around the world. We have the largest mentor network in the world with over 25,000 mentors, and our alumni have already raised over 2 billion US dollars globally.
Founder Institute overview (Provided by Founder Institute)
Yusuke Kaga (JETRO): Why did the Founder Institute come to Japan?
Yu Li Shein (Founder Institute): Everybody knows Japan is the world's third-largest economy, and Japanese science and technology are world-class. Japan's R&D expenditure per GDP is in the top four globally, but VC investment per GDP is extremely low compared to other countries. San Francisco has 20 times more startups than Tokyo, even though the population is a fraction of Tokyo's.
Japan is creating very few unicorns even though Japan is in the top three for Global 2000 companies. The Founder Institute has proven methods to develop global-scale, resilient startups. There are more than 6,500 companies in the portfolio across 200 cities, including unicorns like Udemy. Our mission is to globalize Silicon Valley and create a sustainable startup ecosystem in Japan.
Erdinc Ekinci (FI): I would like to add something, which is Programs like the founder institute are very valuable assets for the local economies. This is not a consumer product, this is something that Japan needs. We launched FI in Japan by bootstrapping and getting early supporters of 60+ mentors and 30+ partners with our own resources. We also have so many sleepless nights and overworking because of our limited budget, and resources and we also needed to run our business at the same time. Nowadays government is announcing many supports, and startups getting popular in Japan. We are a proven and reputational startup accelerator that supports startups. We believe supporting startups should be a mainstream priority! We want more support not just from the government, but also from the media and the public.
Yusuke Kaga (JETRO): Can you tell me overall FI Japan's activities since you come to Japan?
Erdinc Ekinci (Founder Institute): We successfully launched the 2022 cohort program. We got around 100 applicants for the 2022 cohort and the '22 cohort has kicked off with over 20 Founders, representing very different nations, joining from 5 countries and an exciting array of industry and sector innovations.
For our program's 14 sessions for different topics which will help the founder reach the milestones needed for investment and sustained growth, we invited international and local mentors to give sessions and constant feedback to founders.
Founder institute multiple mentors in Japan (Provided by Founder institute)
After very challenging and aggressive growth sprints with more than 200 weekly deliverables delivered, 8 founders graduated on Feb 7, 2022. Here is our graduation founders' graduation demo day video.

Founder institute 2022 cohort graduates (Provided by Founder Institute)
We hosted more than 20 events just last year. Each event attracts from 100 to 200 startup entrepreneurs and enthusiasm not only locally but also globally. Since we want to achieve to create an international community in Japan, we mostly do the events in English.
Founder Institute event images (Provided by Founder Institute)
Yusuke Kaga (JETRO): How did JETRO support your program for the first-time supporter?
Erdinc Ekinci (Founder Institute): Many things, actually. Since our expertise is in partnership development and our company is basically all about partnerships and collaborations, JETRO has done collaborations with us like featuring us as a PR article and promoting our events through the JETRO network. All the people at JETRO are also focusing on building partnerships and they are very collaborative, this is why they are also open to supporting us, and we really appreciate it.
Yusuke Kaga (JETRO): How can founders apply for the program?
Yu Li Shein (Founder Institute): We have two tracks, one as a launch track and one as a growth track. Even with an idea, a company doesn't have to have the product yet and can still join. Almost half of our participants already have a product or MVP. I want to highlight one thing, an additional asset, that we are totally online. It's part-time, 20 hours per week, and not a full-time commitment. So it means you can join even though you're working or a university student. Everything is after 6 pm. We run in English, so even foreign residents in Japan can join us as well. Most of the Japanese founders who join us have the motivation that they want to be a global startup, so we do everything in English. The application link is https://fi.co/japan

. Founder Institute 2023 Cohort's final deadline is April 9th,2023.
Founder Institute next cohort program (Provided by Founder Institute)
Yusuke Kaga (JETRO): What percent of the participants are foreign founders?
Yu Li Shein (Founder Institute): It's around 50/50. One thing is it's not just foreign residents in Japan. It's also people from Indonesia, the US, Australia, Singapore, and Myanmar. They are attracted to Japan and have an interest in foreign entrepreneurship.
Yusuke Kaga (JETRO): Do you encourage the participants to incorporate companies here in Japan?
FI acceleration program image (provided by Founder Institute)
The entrepreneur journey of the Accelerator Program Graduates
Yusuke Yamazaki (JETRO): Okay, and now we'll switch over to talking about DELIGHT Inc

. Anno-san. You applied for the Founder Institute program and have a very interesting history as an entrepreneur. Can you introduce yourself and your background?
Hiroyuki Anno, DELIGHT Inc. CEO (Provided by Mr.Anno)
Hiroyuki Anno (DELIGHT Inc.): I'm 52 years old, and I majored in neural networks at Keio University. When I graduated, I joined the Itochu Corporation. It's a big trading and investment company in Japan. I started DELIGHT Inc.

in 2000, initially as a sports business company, like being a player's agent and organizing marathon events until 2020. But because of the pandemic, everything changed, and I pivoted the business as follows.
With my company, I have developed a multilingual telephone bot as in-house software. I did this because, as a marathon event organizer, I got many incoming calls from participants, especially about weather forecasts when they have an event tomorrow. After the pandemic, we started providing that system to other companies.
DELIGHT product image (Provided by Mr. Anno)
Yusuke Yamazaki (JETRO): Do you have international competitors, and how is your business different from theirs?
Hiroyuki Anno (DELIGHT Inc.): Yes, my market is B2B call center automation, so we have competitors worldwide. Like some companies from France, and other companies from Silicon Valley, Estonia, and Singapore. My advantage is more flexibility in the combination of languages. So if a client wants Japanese and French or Japanese and Indonesian, my phone bot can do it. In some cases, other companies cannot do that. My bot handles 30 languages, but competitor bots can do only five or six maximums.
Another advantage is the price. We have a full range of plans, from affordable to scalable ones. A large company has a bigger budget but wants to avoid the risk of transforming from a workforce call center to an AI telephone bot. They do not want to switch everything in one day at the same time. But my phone bot provides a step-by-step approach, a gradual expansion method, for them. That's the two significant advantages.
Yusuke Yamazaki (JETRO): Wonderful. And for the AI algorithm, was it an original one you made, or did you use some sample algorithm like Google or something?
Hiroyuki Anno (DELIGHT Inc.): Yeah, I'm an AI software engineer, and I worked for a big company in Japan before. My focus is not on a speech-to-text engine. My focus is not an engine at all. Instead, I'm focusing on application and execution. As a technical founder, I use a third-party engine for TTS(text-to-speech) or STT(speech-to-text) engine if needed. I have options, but my focus is on the client, the whole system's design, and integration with other CRMs.
Yusuke Yamazaki (JETRO): Very interesting. And next, I am curious about the Founder's Institute program for you. How did you find the FI program at first?
Hiroyuki Anno (DELIGHT Inc.): In February 2022, I was looking for angel investors outside of Japan and checking a lot of different things. Potential angel investors were liking and posted about FI having some online sessions in Japan. So I attended that event. Some angel investors recommended the Founder Institute is good. So I decided to join. And I think probably I'm the first to pass the Founder Institute exam in Japan.
Yu Li Shein (Founder Institute): Yes, I noticed that you were the first person because it was very early that you applied to take the test, and it was quite early that we met too.
Yusuke Yamazaki (JETRO): Okay, I see. Which part of the FI program is different from other acceleration programs?
Hiroyuki Anno (DELIGHT Inc.): There are a lot of differences between the FI program and others. Indeed, I participated in X-HUB program

(London course) offered by JETRO too. But for FI, the founder needs to take the examination, send the business plan, and pass the admission test. The founder needs to attend all the sessions by himself. On the other hand, in the X-HUB program, the organizer approves the company, so sometimes, if the founder is busy, other people can join the sessions.
In my opinion, Founder's Institute is more focused on the business basics like a business plan, target market and pitch technique. X-HUB London is more for business matching. There is a collaboration with potential partners in other locations, like London and Oxford, in my case. It's more focused on meeting people face-to-face outside of Japan. There's a lot that's different about Founder's Institute. It's a great program. The founder needs to attend, and especially for pre-seed startups, the founder needs to be involved.
Yu Li Shein (Founder Institute): Can I add a highlight? We are profit-driven, right, with 2.5% equity, and we share that with the mentors because they will also have an incentive. If the graduating founders are successful, like making an IPO, we are also incentivized for our portion. We incentivize everybody around us who supports the startup: mentors, local leaders, and the HQ. We're more serious about supporting each other.
Hiroyuki Anno (DELIGHT Inc.): Yes, thank you for explaining it like that. FI is very serious about portfolios being successful, about getting to IPO or exiting. For X-HUB, the government paid the program fee, and after finishing the program, there was no support. With FI, we get support for 15 years after graduation because of the equity collective.
Lessons from the Accelerator Program Graduates
Yusuke Kaga (JETRO): I see, so there are a lot of differences between FI and other accelerator programs. In the past cohort program, I heard that 60% of the participants dropped out, right?
Hiroyuki Anno (DELIGHT Inc.): I heard that 100 persons applied. And we started with 22 companies during this program, and seven companies with eight founders graduated.
Yu Li Shein (Founder Institute): You can see pitch videos from the eight graduated startups of our cohort programs from this link

. They include Anno-san, who survived our strict program, so it is worthwhile watching their pitch video.
Yusuke Kaga (JETRO): Alright, so this question is for Yu Li Shein. Which part of the program is really tough and made some founders drop out?
Yu Li Shein (Founder Institute): One thing is the assignments because each of the 14 weeks has a separate target like this week's vision, customer deployment, revenue creation or the business model. So overall, in the whole program, we still need to deliver more than 200 assignments. And those assignments they cannot just learn from someone else, they really need to work it out.
Future FI program, message to the next startups
Yusuke Kaga (JETRO): Okay great, so I have heard that you are currently preparing for the next cohort program of Founder Institute Japan. Could you tell us about more detail about the next cohort program from 2023 April?
Yu Li Shein (Founder Institute): Applications for the Founder Institute Japan virtual summer 2023 cohort are now open! If a founder is looking to join the largest startup network in the world to get help to launch, fund, and scale your company globally. Please check our webpage

to learn more and apply to the program.
We are also looking for more mentors, partners and sponsors to create more startups and support them better. If you think that FI existence is really helpful to Japan, please come and join and support us.
JETRO is one of the early supporters as well. Thanks to JETRO's Team for all of your support.
Yusuke Kaga (JETRO): Okay, thanks a lot. Last not but least, could you have some advices for the next applicants for FI program, Anno-san?
Hiroyuki Anno (DELIGHT Inc.): My message is simple, "Do not focus on the Japanese market solely, just go to global market from Day1". This is a necessary mindset for Founder Institute program.
Yusuke Kaga (JETRO): Thanks today to attend this interview. I hope more and more entrepreneurs will attend their program as next cohort, and finally create a unicorn company here in Japan.
Report by:

KAGA Yusuke, Startup Support Division, JETRO