"Public-Private Business Mission" to Yangon, Myanmar, and "Japan-Myanmar High Level Water Business Seminar"
From December 16 to 18, JETRO jointly sent the "Public-Private Business Mission" to Yangon, Myanmar, with the Japan Machinery Center for Trade and Investment (JMC) under the theme of technology for water infrastructure. It was composed of a total of 25 people from 15 companies and seven groups representing both public and private sectors. The delegation made courtesy calls on ranking officials (including the Chief Minister of Yangon Region Government and Deputy Mayor of Yangon), joined the High Level Water Business Seminar and individual business matching talks and visited a water treatment plant.
Chief Minister of Yangon Region Government and Mayor of Yangon express hope for Japanese activities and technologies for water infrastructure
The Japan-Myanmar High Level Water Business Seminar, held on the second day of the mission, was joined by over 170 people, including from local Japanese companies in addition to local ranking officials from the region and the City of Yangon.
At the beginning of the seminar, opening remarks were delivered by: 1. Minister MAEDA Toru of the Japanese Embassy in Myanmar, 2. Managing Director TANAKA Kazufumi of JETRO Yangon and 3. Chief Minister Phyo Min Thein of the Yangon Region Government. The Yangon Chief Minister expressed his hope for Japanese technologies and supports toward preparing a sustainable water supply system, such as for delivery of drinkable water and recycling wastewater, with the aim of preparing an environment which ensures public safety, security and health.
Following that, from the Myanmar side, presentations including a keynote speech, were delivered by the following guests: 1. Maung Maung Soe, Mayor of Yangon and Minister for Development Affairs of the Yangon Region Government; 2. Htin Lin Kha, Project Manager of the Greater Yangon Water Supply, Water Supply Improvement and the Water Resource Authority of the Yangon City Development Committee; 3. Nan Su Shwe Sin of the Drainage and Waste Water Management Authority; and 4. Maung Weik, Chairman of the Myanmar Developer Association.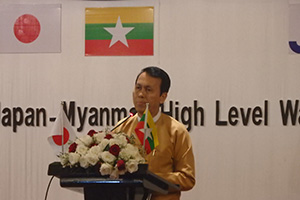 Opening remarks by Chief Minister Phyo Min Thein
Useful information was presented for Japanese companies to draft future business plans from both the water supply and sewerage system sectors—such as current and future public biddings related to expansion of existing facilities, measures for non-revenue water and natural disasters (flooding) and decentralized wastewater treatment systems, all of which are becoming critical issues in line with rapid urbanization and population growth (with 2040 estimated to be twice that of 2014) in Yangon.
Keynote speech by Yangon Mayor Maung Maung Soe
Presentation by Nan Su Shwe Sin from Drainage and Waste Water Management Authority
Presentation by Chairman Maung Weik of Myanmar Developer Association
Following that, from the Japanese side, presentations were made by the government (the Cabinet Secretariat), local authorities (the cities of Kitakyushu and Fukuoka), and companies including those active in Yangon (in the fields of engineering, trading, manufacturing and development consulting), who promoted high-quality infrastructure products and technologies for water treatment toward local ranking officials and companies.
The Cabinet Secretariat spoke on points to note in utilizing public-private partnership (PPP) schemes for water supply, adoption of which is currently being considered in the local region, and presented on Japan's experience in comprehensive water management. Representatives from Kitakyushu and Fukuoka, describing their contributions to water projects including technological cooperation―the former in Mandalay and the latter in Yangon―promoted their continuous collaboration applying their knowhow accumulated within Japan and overseas.
Presentation by Cabinet Secretariat
Presentation by a representative from the City of Kitakyushu
Presentation by Manager of JFE Engineering Corporation
In her closing remarks at the end of the seminar, YOSHIHARA Miho, Director for Project Coordination of the Office for Promotion of the International Infrastructure System and Water Industry of the Manufacturing Industries Bureau in METI, extended appreciation to all participants and expressed her hope that the seminar would be a catalyst for both countries to further develop cooperative relations in the field of water infrastructure.
Closing remarks by METI
At the individual business matching talks and the reception following the seminar, companies from Myanmar and Japan actively exchanged opinions. Among the comments JETRO received from attendees, particular praise was given as follows: "This mission was a significantly effective opportunity for us to build a win-win relationship," and "By meeting key local figures in person, we were able to get a picture of local trends." Meanwhile, many said that they recognized anew numerous issues lying in the country, with comments such as: "As the need for water infrastructure in Myanmar is high, we should help them develop it through continuous, diversified approaches and from the long-term perspective."
JETRO will continue disseminating information on Japanese products and services as well as holding individual business matching meetings through seminars and missions in the field of water infrastructure.
Business talks
Outline of the seminar
Title
Japan-Myanmar High Level Water Business Seminar
Date and time
Tuesday, December 17, 13:00 – 16:20 (including the reception)
Venue
Novotel Yangon Max
Organizers
JETRO, JMC
Participants
173 people
Program

Opening remarks

MAEDA Toru, Minister of Japan to the Republic of the Union of Myanmar
TANAKA Kazufumi, Managing Director, JETRO Yangon
Phyo Min Thein, Chief Minister of Yangon Region Government

Keynote speech


Maung Maung Soe, Mayor of Yangon and Minister for Development Affairs of Yangon Region Government

Presentations from the Myanmar side

Htin Lin Kha, Project Manager, Greater Yangon Water Supply Improvement Water Supply and Water Resource Authority, Yangon City Development Committee
Nan Su Shwe Sin, Drainage and Waste Water Management Authority
Maung Weik, Chairman, Myanmar Developer Association

Presentations from the Japanese side

KAWAMOTO Takatoshi, Assistant Counsellor, Cabinet Secretariat
HASHIMOTO Yasunori, Director, International Cooperation, Fukuoka City
MORINAGA Kenichi, Director, International Project Division, Water and Sewer Bureau, Kitakyushu City
TATSUTA Hiroki, Department General Manager, Sumitomo Corporation Asia & Oceania Pte. Ltd., Yangon Office
MIURA Chiho, Manager, JFE Engineering Corporation
Omori Hiroshi, General Manager, Kubota Corporation Yangon Branch
MOTOJIMA Katsuhide, Managing Director, Kobelco Supreme Water Engineering Co., Ltd.
MORIAT Masayoshi, General Manager of Sales Dep, HITZ (THAILAND)
YOKOTA Toshihiko, Managing Director, MW Aqua Solutions Co., Ltd. - JV of Mitsubishi Chemical Aqua Solutions Co., Ltd.
MURAYAMA Makoto, Senior Manager, Yangon office, TSS TOKYO WATER Co., Ltd
SOGAWA Hiroyuki, General Manager International Sales & Marketing Department, METAWATER Co. Ltd.,

Question-and-answer session
Closing remarks


YOSHIHARA Miho, Director for Project Coordination, Office for Promotion of International Infrastructure System and Water Industry, Manufacturing Industries Bureau, Ministry of Economy, Trade and Industry

Individual business talk session