Invest Japan Seminar in Helsinki—Japan-Finland Gateway for Open Innovation Meetup
On November 20, JETRO convened an Invest Japan Seminar titled "The Japan-Finland Gateway for Open Innovation Meetup" in tandem with the world-renowned startup seminar "Slush" in Helsinki, home to a startup ecosystem hub in Finland. A call was made for startups active in the fields of AI, IoT and health-tech to work with Japanese companies and to invest in Japan's local regions, through publicizing the attractiveness of the Japanese market and business opportunities.
In his opening remarks, Mr. Murata, Japanese Ambassador to Finland, touched on the 100-year history and the investment relationship between the two countries since the establishment of diplomatic relations, and expressed his hope for the investment relationship to grow stronger. Following him, under the theme of "cooperation and innovation," Director-General Mio Kawada of the Invest Japan Department at JETRO explained social challenges Japan is facing, and efforts the Japanese government are making to facilitate innovation, as well as support programs JETRO is offering.
Venue
Mr. Nagashima from Fujitsu introduced his company's accelerator program, and presented specific collaboration cases as well as the fact that there is room for Finnish companies to enter the Japanese market. Mentioning the scale of Japan's GDP and the world-leading investment in research and development by Japan, Mr. Sohara of Nordic Ninja explained an increasing number of Japanese companies are promoting open innovation while investment into startups is also rising year by year. Mr. Onuma of DMM.make.AKIBA presented the company's co-working spaces specialized in manufacturing and examples of cooperation between startups using those spaces and Japanese companies. He announced his company's plans to proactively invest in domestic and overseas startups in the future.
In the session "Company Presentation—Case studies," a presentation was delivered by a representative from the Finnish company Nightingale Health, a health-tech developer of blood test technology to detect chronic illnesses such as lifestyle diseases which is currently considering entry to Japan. Regarding reasons for entering Japan, the speaker pointed out that both countries share a common issue in the significantly increasing aging rate and emphasized that his company can contribute to solving challenges in Japan by leveraging its experience in Finland.
In the session "Panel Discussion—Attractive regions in Japan," representatives from the prefectures of Kanagawa, Mie and Fukuoka and the cities of Yokohama, Osaka and Kobe took the podium to publicize their business environments, which bore successful cases of entry to each region by overseas companies, and cases of collaboration with local companies as well as experimental studies unique to each local region. They made a passionate call for Finnish companies in attendance to enter their regions.
At a networking reception after the seminar, numerous Finnish business people visited PR tables for the six presenting local authorities, as well as JETRO, and engaged in lively discussions.
With the aim of creating innovation, JETRO will continue to support collaboration between Finnish and Japanese companies as well as assist Finnish companies in entering Japan.
* This seminar was held under the consigned budget of the Ministry of Economy, Trade and Industry.
Panel session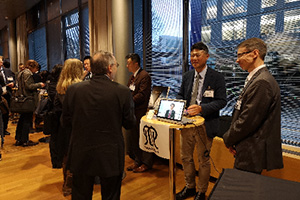 Network reception
Outline of seminar
Date and time
November 20, 2019, 13:30 - 16:00
Venue
Business Finland
Organizer
JETRO
Co-organizer
Business Finland
Cooperation

Embassy of Japan in Finland
Finland-Japan Chamber of Commerce

Program

Opening Remarks

MURATA Takashi, Ambassador Extraordinary and Plenipotentiary, Embassy of Japan in Finland

Business Opportunities in Japan
-Collaboration between Finnish and Japanese companies-

KAWADA Mio, Director General, Invest Japan Department, JETRO

Company Presentation—Technologies Japan is seeking

NAGASHIMA Yoshiyuki, Global Business Planning & Sales Dept., FSI Financial Services Business Unit, Financial Services & Social Infrastructure Sales
SOHARA Tomosaku Managing Partner, Nordic Ninja
ONUMA Keisuke, General Manager, DMM.make AKIBA, Corporate Planning Office and Business planning Division.make AKIBA Department

Company Presentation—Case studies

Janna Rant, Head of Business, Healthcare Nightingale Health

Panel Discussion—Attractive regions in Japan

Mr. HIGUCHI Taisuke Group Leader, Investment Promotion and International Business Division, Kanagawa Prefecture
TAMAI Takeshi, Chief Representative, City of Yokohama Frankfurt Representative Office
YOSHIZUMI Naoya, International Strategy Division, Department of Employment and Economy, Mie Prefecture
Liang Yu, Deputy Secretary General, Osaka Business and Investment Center (O-BIC)
MORIHANA Arisa, International Department, Office of the Mayor, Kobe City
MIZOTA Kazuhisa, Assistant Section Leader, Invest Promotion Division, Fukuoka Prefecture

Closing

Christina Rinne, Senior Advisor, Business Ecosystems Digital, Business Finland

Networking reception