Saudi-Japan Vision 2030 Business Forum – Introduction of future-oriented cooperation in new fields
On June 17, taking the opportunity of a visit to Japan by the Minister of Economy and Planning and Minister of Energy, Industry and Mineral Resources of Saudi Arabia, JETRO jointly held the "Saudi-Japan Vision 2030 Business Forum" with the Saudi-Japan Vision Office; Japan's Ministry of Economy, Trade and Industry; the Japan Cooperation Center for the Middle East (JCCME); and the Saudi Arabian General Investment Authority (SAGIA). It was joined by 254 participants from the Japanese side alone, indicating great interest among Japanese companies.
With the aim of confirming the progress and achievements of the Saudi–Japan Vision 2030 planned in 2017 and evincing its future orientation, the forum was divided into a business session and a ceremony session. The business session consisted of three topics: infrastructure and energy, entertainment and startups. As the fields of entertainment and startups in particular provide good models for the vision which aims at industrial diversification, the session was able to show the new cooperative relationship between the two countries toward the future.
In the keynote speech for the venture and startup session, a representative of Softbank Group Corporation presented on the activities of the "SoftBank Vision Fund," a joint fund with the Public Investment Fund (PIF). During the panel discussion, representatives of Doreming, a Dammam-based startup which provides companies with an integrated cloud platform for human resource, payroll and financial services, and Terra Drone Corporation, which creates drone technology for industrial use, explained their activities as Japanese startups endeavoring in the Saudi market. In addition, CEOs from SABIC Investments and Local Content Development Company and Saudi Technology Venture (STV) illustrated their strategies and programs for investing into companies with innovative technologies, indicating great interest in investing in Japanese companies.
During the panel discussion in the third session for entertainment, an animated film jointly created by Manga Productions from Saudi Arabia and Toei Animation from Japan was introduced. Special courses and internship programs to cultivate manga artists among Saudi Arabians was also explained by Manga Productions and Kadokawa Corporation. The session sent a clear message that young Saudi Arabians are earnestly working for programs offered by Japanese companies with the intention of becoming creators.
In the ceremony session of the latter half of the forum, 14 new memorandums of understanding were concluded between Saudi Arabia and Japan in the presence of ranking officials including Hiroshige Seko; Japan's Minister of Economy, Trade and Industry; and Mohammad Al Tuwaijri, Saudi Arabia's Minister of Economy and Planning. Mentioning that cooperative projects have increased from 31 in the beginning to 61, Minister Seko introduced "Saudi-Japan Vision 2030 2.0," which was created by both governments by consolidating current projects and future action plans. Announcing the plan to open "Vision Office Tokyo," Minister Tuwaijri emphasized the enhancement of relations between Saudi Arabia and Japan in new fields.
Greeting by Economic Minister Seko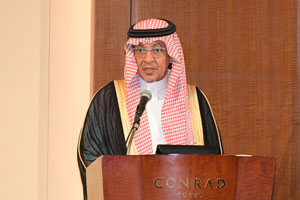 Greeting by Minister Tuwaijri of Economy and Planning
Closing remarks by JETRO President Akahoshi
Welcome remarks by Executive Director Basma AlBuhairan of SAGIA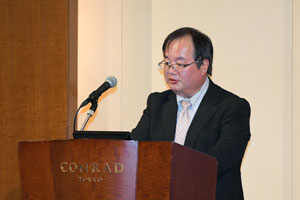 Opening remarks remarks by JETRO Executive Vice President Mizui
Forum outline
Date and time
16:00 -18:30, June 17
Venue
Kazanami Ballroom, Conrad Tokyo (2nd Floor)
Organized by
Saudi-Japan Vision Office
Ministry of Economy, Trade and Industry; JCCME; JETRO;
Saudi Arabian General Investment Authority (SAGIA)
Program

Opening remarks


Osamu Mizui, Executive Vice President, JETRO

Welcome remarks


Basma AlBuhairan, Executive Director, Saudi Arabian General Investment Authority (SAGIA)

Business session:
Session 1: Business opportunities
Keynote speech 1


Pierre De Vuyst, Vice President, Chief Executive for Middle East, Africa and India / President of Yokogawa Middle East and Africa BSC

Panel discussion 1
Moderator: Ryohei Tamura, Chairman, Saudi-Japan Vision Office in Riyadh
Ahmad Al Ghamdi , Sr. Director Integration & Enablement, NIDLP
Mazin Al-Jasser, General Manager for marketing and institutional communication, Saudi Exports

Session 2: New Business opportunities -Ventures and startups-
Keynote speech 2
Katsunori Sago
Board Director, Executive Vice President & CSO, SoftBank Group Corp.

Panel discussion 2
Moderator: Ray Hatoyama, Venture Partner, Sozo Ventures
Yoshikazu Takasaki, Chairman, Doreming Co.,Ltd
Takashi Seki, Head of Japan Business, Terra Drone Corporation
Eng. Fuad Mosa, CEO, SABIC Investments and Local Content Development Company
Abdulrahman Tarabzoni, CEO, Saudi Technology Venture

Session 3: New business opportunities -Entertainment-
Panel discussion 3
Moderator: Hideki Sho, MD, JETRO / Saudi-Japan Vision Office in Riyadh
Toshiyuki Yoshihara, Director of Board, Senior Managing Executive Officer, Kadokawa Corporation
Shinji Shimizu, Senior Director, Toei Animation
Essam Bukhary, Chief Executive Officer, Manga Productions
Ceremony session
Government representative speech


Hiroshige Seko, Minister of Economy, Trade and Industry, Japan

Guest speech
Mohammad Al Tuwaijri, Minister of Economy and Planning, Saudi Arabia
MOU ceremony and photo session, new license award ceremony
Closing remarks


Yasushi Akahoshi, President, JETRO