Conclusion of MOC with the Philippine Department of Trade and Industry
On May 29, Nobuhiko Sasaki, Chairman and CEO of JETRO, and Ramon M. Lopez, Secretary of the Department of Trade and Industry (DTI) of the Philippines, signed a memorandum of cooperation (MOC). Based on this MOC, both organizations will strengthen cooperation through the following activities:
Facilitating and supporting investment into the Philippines by Japanese companies and into Japan by Philippine companies (holding seminars, dispatching missions, improving the investment environment, etc.)
Promoting innovation which can contribute to comprehensive and sustainable growth for Japan and the Philippines (holding networking meetings and matching events between start-ups, accelerators, investors and companies from both countries)
Including the MOC between the DTI and JETRO, 26 agreements related to investment from Japan were signed between government-affiliated organizations of both countries and companies on this day. The DTI estimated that the total investment of the agreements would amount to 288.8 billion pesos (approximately 606.5 billion yen), creating 82,737 new jobs. Philippine President Rodrigo Duterte, who attended the ceremony, made a passionate call for investment into the country, saying, "We will further enhance the transparency of the Philippine government and improve the investment environment."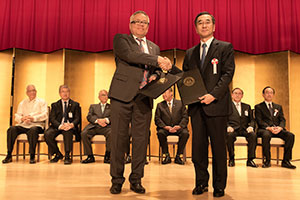 Exchange of MOC
Following the signing ceremony of the MOC, a roundtable meeting with President Duterte was held with the participation of business people from the Philippines and Japan and JETRO. Chairman Sasaki delivered remarks on behalf of participants and expressed the enthusiasm of his organization by stating, "JETRO will promote further collaboration between companies of both countries in a mutually complementary manner and contribute to creating innovation toward the sustainable and comprehensive growth of our countries utilizing IoT and fintech."
On May 30, a business seminar was held for a mission of Philippine companies led by President Duterte. Yuri Sato, Executive Vice President of JETRO, delivered a presentation on the attractiveness of the Philippines as an investment destination and points to be improved upon from the perspective of Japanese companies and as well as fields where both countries will be able to work together in the future. In particular, she emphasized that there is significant potential for the two countries to collaborate in creating innovation which can contribute to solving regional social issues.
Presentation by JETRO Executive Vice President Sato
Source: Courtesy of the Department of Trade and Industry (DTI)
Venue
Source: Courtesy of DTI
Remarks by JETRO Chairman & CEO Sasaki
Source: Courtesy of DTI